Japan exports decline for sixth consecutive month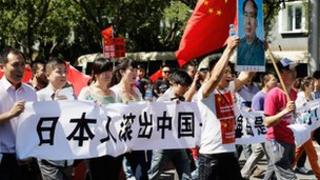 Japan's exports have fallen for a sixth straight month, underlining the issues faced by the incoming government set to take charge in the coming days.
Shipments fell 4.1% in November, from a year earlier. Exports to China declined 14.5% and to the European Union by 20%.
Sales to China have been hit by a territorial dispute, while continuing debt issues in the European Union have hurt exports to the region's economies.
Exports are a key driver of Japan's economic growth.
A continued slowdown in the sector would hurt the government's attempts to revive growth in the world's third-largest economy.
Turnaround?
However, there are hopes that the sector may see a turnaround in the coming months, not least because of the measures promised by Shinzo Abe who is set to be the country's new prime minister.
Mr Abe, the leader of the Liberal Democratic Party, which won Japan's general elections earlier this week, has said that he will implement measures aimed at weakening the Japanese currency, the yen.
The strength of the yen has been one of the key issues faced by the country's exporters in recent times.
A strong yen not only makes their goods more expensive to foreign buyers but also hurts their profits when they repatriate their overseas earnings back home.
The Japanese currency rose almost 6% against the US dollar between April 2011 and November 2012.
However, after Mr Abe promised to take steps to weaken the currency, it has dipped, falling almost 6% since November. It hit a 20-month low of 84.48 yen against the US dollar earlier this week after exit polls indicated a win for Mr Abe.
It was trading close to 84.35 yen against the US dollar in Asian trade on Wednesday.
Analysts said the Japanese currency was likely to remain at a similar level in the near term, which they said would help provide a much needed boost to exporters.
"There is trend for the currency to remain weak for the next few months," said Martin Schulz of Fujitsu Research Institute in Tokyo.
"This should help the exporters gain some of the ground they have lost to regional competitors."