General Motors: US government to sell stake in carmaker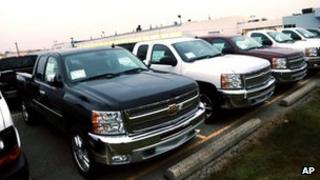 The US government is to sell its remaining 26.5% stake in General Motors (GM), it has been announced.
GM itself will spend $5.5bn (£3.4bn) to buy back 200 million of the shares currently in the hands of the Treasury Department.
The government will then sell the remaining 300 million shares it owns in the carmaker on the open market over the next 12 to 15 months.
The Treasury spent $49.5bn bailing out GM in 2008 and 2009.
At the time, the US and other key economies were hit by the global financial crisis, and the carmaker got itself into financial difficulties as a result of falling sales and widening losses.
At its peak, the Treasury owned a 61% stake in GM.
GM is buying the stock from the government for $27.50 per share, 8% higher than the company's closing share price on Tuesday. It said it hoped to have purchased all the shares by the end of this month.
GM financial officer Dan Ammann said the announcement was "fundamentally good for the business".
However, the price means that the US government will almost certainly not get back all of its $49.5bn bailout, as this would require it to sell the remaining 300 million shares for more than $70 each.
Also on Wednesday, the Canadian government said that it and the province of Ontario had no immediate plans to sell their combined 9% stake in GM.
The US Treasury also had to bail out carmaker Chrysler in 2008 and 2009, spending a total of $12.5bn. The government's final stake in Chrysler was sold to Italy's Fiat last year, which now has a controlling stake in the US firm. The Treasury was left with losses of $1.3bn.