Predicting technology in 2013: Rise of the machines?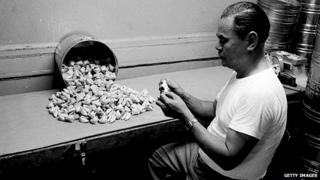 The first full week back at work is always a sobering one.
The Christmas tree is now a sad, partially denuded twig, languishing outside waiting for the bin men.
The one lasting reminder of the holiday season is those extra few inches round the waist.
Ignore the January blues and try desperately to cling on to memories of the new year celebrations and part one of the annual Technology of Business lookahead, as you crack open the fortune cookie that is part two.
Steve Prentice, Gartner
2013 will see the internet strengthen its grip on our lives.
More cloud computing, services and storage. More mobile devices with more apps, more games, more browsing, more shopping and more sharing with our "friends" on social media.
All of which increases the demand for bandwidth, faster speed and universal coverage.
And with the marketing muscle of big corporations in support, countless millions of machines (from simple sensors to jet engines) will join the digital conversation, building the internet of everything, delivering an accelerating flow of data and the consequent demand for advanced analytics.
Business leaders will demand "more innovation" in pursuit of growth, whilst personal technology accelerates away from mundane enterprise applications at an ever increasing pace.
As individuals, our everyday actions are increasingly guided by search results, voice activated assistants and the recommendations from our "friends" on social media.
We live in innocence (or is it ignorance?) with scarcely a thought for how the answers are determined, as our personal involvement in decision making is steadily eroded.
We trade privacy for convenience as machines expand their capabilities to make better, smarter, faster decisions. They have even learned to drive!
2013 may be the year we must declare the internet our new best friend!
Henry Mason, global head of research, Trendwatching.com
We identified 10 consumer trends that will impact business in 2013 in our latest briefing. Here are three that should be on your radar:
Mobile moments: Where will mobile head next? In 2013, consumers will look to their mobile devices to maximise absolutely every moment, lifestyle multi-if-not-hypertasking.
Presumers: 2013 will see more consumers embrace crowdfunding platforms. Kickstarter, the US-based site founded in 2009, took until February 2012 to see a project break the $1m pledge barrier. Since then, 17 projects have raised over $1m.
Data mining: To date, the "big data" discussion has focused on the value of customer data to businesses. Now, increasingly savvy consumers will start to expect businesses to use this data to benefit them, by offering access to better or cheaper products or services
Belinda Parmar, Lady Geek
2012 was the Year of the Tech Consumer. There was a tablet under every tree and everyone's nan and their dog had a smartphone.
Everything became geared to making it simpler to consume content. We have never been more comfortable being spoon-fed by computers. Even Windows ended up dumbing itself down.
The problem is it's all too easy. Everyone can use computers, but we've forgotten how they work. That's about to change.
2013 will be the Year of the Digital Creator. Coding will come in from the cold.
The most exciting development of last year was the success of the Raspberry Pi, the credit-card sized computer launched in February to stimulate back-to-basics coding skills. It's incredible popularity in both schools and businesses shows that tech users want to start making again.
We are once again interested in tinkering under the bonnet, and this will lead to a wave of innovative and individually created innovations.
This fresh creativity will also see business models overturned.
Exciting projects - like the Pebble Smartwatch and the Everpurse - are already coming to prominence not in the halls of Google or Amazon, but on crowdfunding websites.
Those looking for the next invention that will drive and define the future of the industry would be wise to keep one eye on Kickstarter and Wefund.
Finally, 2013 should be the year the industry changes its image - that is, if it's got any sense.
Technology no longer belongs to the nerdy priesthood - it's used by everyone. That must be reflected within its ranks.
We are campaigning for a more diverse technology workforce - only 17% of jobs are held by women - and that will only come as the links between tech and creativity are strengthened.
Let's make 2013 a more inclusive year to be involved with technology: Be geek and proud.
Ben Holmes, Index Ventures
Time spent on mobile browsing and particularly in mobile applications is enormous and still advertising spend hasn't adjusted for this shift.
Many new formats using location, notification channels and other mobile specific ad formats will start to become mainstream in 2013.
The press and media have really latched onto 3D printing in 2012, yet still relatively few consumers have experienced 3D printed products.
Whether through online 3D printing services or home 3D printers, this will change particularly in homeware and jewellery which may be the beachhead categories.
Every year more and more consumers decide to do most or all their shopping online. Online merchants are also getting better at fulfilling orders late into December.
One advantage is the ability to access a multitude of small suppliers who provide more unique and often personalised products which have much greater appeal than mass-produced products.
Over 2013 I expect many of these online marketplaces which connect consumers to small artisanal producers to thrive, while more and more offline retailers will go under.
Alastair Sorbie, CEO, IFS
The market for mobile business applications will take off and become a natural part of IT strategy and infrastructure.
The primary business benefit is to stop the duplication of data entry (administrative savings), and being able to see business transactions in real time, meaning processes can be executed more quickly, speeding up order-to-cash times.
An example of this is how installation and service tasks can be reported immediately, allowing the finance department to create the appropriate invoice within minutes.
This is not just using mobile applications, but targeted apps to satisfy specific functions, for example updating audits on smartphones.
This lets you complete a supplier audit whilst on-site with the supplier - saving time, and allowing changes to be put in place immediately.
Many industries will face uncertain demand from challenging customers, meaning they will have to improve efficiency.
We expect that this will lead to more interest in supply chain planning (SCP) solutions. The ability to predict demand using techniques such as collaborative and promotional forecasting means companies can quickly react to market conditions.
As an example we are seeing more and more companies bringing production closer to home, letting them react more quickly, even if this may be at a slightly higher cost.