US home sales hit three-year high as GDP revised up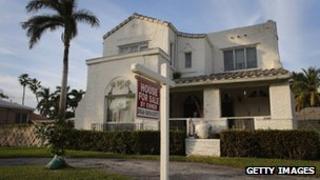 Sales of previously owned US homes rose in November to their highest level in three years, figures have shown.
The National Association of Realtors (NAR) said sales rose 5.9% to a seasonally adjusted annual rate of 5.04 million last month.
Meanwhile the economy grew faster than previously thought in the third quarter, at an annualised rate of 3.1%.
The Commerce Department had previously estimated that growth hit 2.7% in the three months to September.
However economists still predict much slower growth in the final three months of the year.
Rising prices
The NAR said that there was "healthy demand" in the housing market.
"Momentum continues to build in the housing market from growing jobs and a bursting out of household formation," said NAR chief economist Lawrence Yun.
The US unemployment rate fell to a four-year low of 7.7% in November, and has been steadily falling from its recent peak of 10.1% in October 2009.
"With lower rental vacancy rates and rising rents, combined with still historically favourable affordability conditions, more people are buying homes," Mr Yun added.
However the rate of 5.04 million is still well below the peak of mid-2005, when it topped 7 million.
Home prices rose year-on-year for the ninth consecutive month.
The national median existing home price for all housing types was $180,600 (£111,000) in November, up 10.1% on November 2011.
'Cliff' uncertainty
Stronger exports and higher government and consumer spending helped boost growth in the third quarter, the Commerce Department said.
Spending by state and local governments rose 0.3% over the period, while consumer spending grew at an annualised rate of 1.6%.
The US states its growth in annualised terms, meaning that its quarterly growth rate is extrapolated as if it was growing at that pace for the whole year.
Economic growth in the final quarter of 2012 is expected to have been harmed by uncertainty over "fiscal cliff" talks.
Disruption caused by Superstorm Sandy is also likely to have hit productivity, and economists are broadly predicting a growth rate of closer to 1.5% for the final quarter.
Looking ahead, many economists, including Federal Reserve chairman Ben Bernanke, have said that growth could accelerate next year if Congress and the White House can reach agreement to solve the fiscal cliff and avoid the steep tax rises and sharp spending cuts that would take effect in January.