Faulty good refunds too slow, says Citizens Advice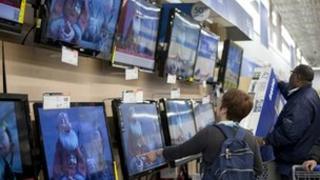 A consumer charity is calling for a change in the law so that people sold faulty goods can get a refund quickly.
Citizens Advice wants businesses to guarantee refunds are paid within 30 days of them promising money back. No set deadline exists currently - redress must be made "in reasonable time".
Citizens Advice oversaw 400,000 complaints in England and Wales between April and November this year.
The charity wants it to be easier for groups of consumers to go to court.
Class action
Citizens Advice said the complaints it had received from April to November were about products with a total value of £3bn.
The most complained about faulty products were second-hand cars bought from independent traders, furniture and television sets.
In the days immediately following Christmas, there is typically a rush of people returning smaller items, ranging from toys to mobile phones, that were given as Christmas gifts.
Under current law, retailers are obliged to offer a refund, repair or replacement of a product that was faulty when it was sold.
Gillian Guy, chief executive of Citizens Advice, said: "By law retailers must offer refunds, repairs or replacements for faulty products but all too often this is not happening. Household budgets are tight, meaning many people do not have the money to buy a new item if its broken and the seller has refused to sort it out.
"This is not good for consumer confidence. In these tough economic times people need to know that when they buy something they are not going to be short-changed if things go wrong.
"Stronger, clearer consumer rights will help protect squeezed spenders from expensive purchases that go wrong, and will give businesses a boost as shoppers feel more confident parting with their hard-earned cash."