209 rogue claims firms shut down by Ministry of Justice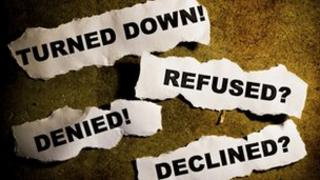 More than 200 rogue claims management companies were shut down in six months as part of a crackdown, according to the Ministry of Justice.
The Claims Management Regulation Unit shut down 209 such firms between April and November this year, it said.
Three more rogue firms were suspended and a further 140 were warned.
The unit is also working with the UK's data watchdog to tackle firms who break the law with unsolicited calls and texts, it said.
Claims firm advertise widely on TV, newspapers and the internet, encouraging people to sue for personal injury compensation, and for other losses. Some also use improper cold-calling, by phone or text, to drum up clients.
In the past year, the banking industry's exposure to millions of claims for the past mis-selling of payment protection insurance (PPI) policies has proved lucrative for the claims firms, who have encouraged tens of thousands of people to use their services, for a charge,
However, individuals can make a PPI claim themselves for nothing.
'Bad practices'
Kevin Rousell, head of the Claims Management Regulation Unit, said it was working with the Information Commissioner's Office to crack down on calls and texts.
"We will continue to tackle bad practices by claims management companies and take action against those who break the rules," he said.
More than 900 claims companies have been shut down in the past five years, the Ministry of Justice said.
The latest crackdown comes ahead of government plans next year to give consumers more protection against rogue firms, such as making all businesses agree written contracts with customers before taking fees.
And from next year, consumers gain the right to be able to go to the Legal Ombudsman, which will have the power to award compensation to victims of rogue firms if appropriate.