China manufacturing activity sees steady growth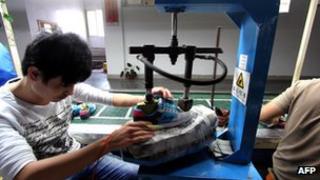 Manufacturing activity in China has expanded for the third month in a row, adding to hopes of a rebound in the world's second-largest economy.
China's official Purchasing Managers' Index (PMI) stood at 50.6 in December. A reading above 50 indicates expansion.
The data follows HSBC's release of its PMI earlier in the week, which hit a 19-month high of 51.5 in December.
China's manufacturing sector, a key contributor to its economic growth, has been hurt by slowing global demand.
However, analysts said the recent expansion in the sector indicated that it was recovering.
"There is a very clear trend emerging that manufacturing in China is on the rebound," said Stephen Joske of Australia Super, a Beijing-based institutional investor.
Broader recovery
China's economy expanded 7.4% in the July to September period, its slowest pace in three years.
Amid that broader slump, manufacturing activity contracted in August and September. However, it has since been on the up, expanding in each of the past three months.
Meanwhile, other economic data released over the past few weeks have also hinted at a broader recovery in the Chinese economy.
Industrial production, retail sales and fixed asset investment were all up in November.
At the same time, new home prices rose in 53 out of 70 major cities in China in November, from the pervious month. That was up from 35 cities which recorded price rises in October.
"There is no doubt that growth is on the up. The only question is how strong the recovery is going to be," said Mr Joske.
He added that while Chinese policymakers had taken some measures to help spur a fresh wave of economic growth, they were unlikely to implement big stimulus measures like they did after the global financial crisis in 2008 and 2009.
"The message here is clear that while the recovery is genuine, it is unlikely to be a hyper-charged one," he said.