Next lifts profit forecast as Christmas sales rise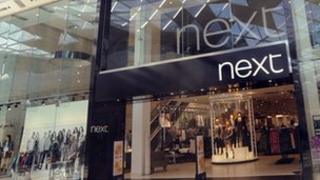 Retailer Next has forecast full-year profits at the top end of expectations as it reported a rise in sales in the run-up to Christmas.
Total sales from 1 November to Christmas Eve rose 3.9% from a year earlier, with online sales up 11.2%.
Having reported "disappointing" late-summer sales, the company now expects profits for 2012 to be within £7m "either side" of £618m.
But it warned the retail environment would remain "subdued" this year.
"We think it is unlikely there will be any dramatic change in the consumer environment in the year ahead," the retailer said in its latest trading statement.
"Healthy employment numbers mean that there is little risk of a significant downturn".
However, the company said prices would continue to rise faster than wages, meaning "real wages will continue to fall, albeit at a slower rate than last year".
For 2012, the company had previously forecast profits of between £590m and £620m.
Profits would be close to the top end of this range due to better-than-expected cost controls and margins, it added.
Next shares shares rose by almost 4% in early trading following the statement.
"Next's performance underlines the trend of this festive season - namely that online has been the principal driver of growth and is paying dividends for those [retailers] that have invested in their online offer," said Joseph Robinson at retail analysts Conlumino.
"In our view, Next is a very well run business with a tight grip on costs, discounting and stock management."
Tough year
On Tuesday, department store John Lewis reported a strong rise in Christmas sales, which rose by 13% in the last five weeks of 2012.
A number of retailers started sales early in an attempt to get shoppers through the doors, which analysts warn may have an impact on profits.
It may also mean the traditional January sales are rather muted as a good deal of stock has already been shifted.
Retailers endured a tough year in 2012, with a number of high profile High Street names going into administration, including Peacocks, Game, Aquascutum, Clinton Cards and Comet.
Next managed to buck the trend, with shares in the company up almost 40% in the past year, thanks in large part to strong sales at its online business.