Germany retail sales higher in 2012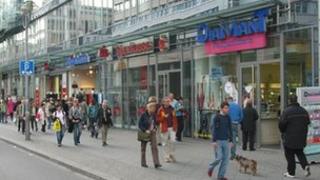 Retail sales in Germany rose as much as 2.1% last year as Europe's largest economy took the eurozone debt crisis in its stride, according to the Federal Statistical Office.
But stripping out inflation, turnover at retail stores fell between 0.1% and 0.3% from 2011, Destatis said.
November retail sales also gained from a year earlier, it added.
Germany has mainly escaped the worst effects of the crisis that has threatened to unravel the bloc.
Figures this week also showed the jobless rate was unchanged at 6.9% last month - with the total jobless at about 2.8 million.
Germany's Federal Labour Agency said the seasonally-adjusted jobless rate was unchanged in December, although there were 3,000 more unemployed people than the previous month.
The nation is the architect and chief backer of the eurozone's many bailouts as the region tries to extricate itself from a debt crisis.
Unlike most of its partners in the 17-nation eurozone, Germany's economy grew for most of 2012. Fourth-quarter GDP figures are due this month.
Shrinkage
Meanwhile, the contraction of the eurozone's services sector since the summer of 2011 may have slowed down in December, according to the latest monthly business survey from Markit.
It suggested activity fell more slowly in Spain and Italy, and grew for the first time in five months in Germany, albeit weakly.
The service-sector Purchasing Managers Index (PMI) for the eurozone as a whole rose to 47.8 last month from 46.7 in November. Levels below 50 imply shrinkage.
Services comprise the bulk of economic output in the eurozone.
The eurozone economy has stagnated for the last year and a half, with southern European countries returning to recession, and even Germany showing signs of weakening in recent months.
Last month, the German central bank cut its growth forecast for 2013, saying the country might be entering a recession.
The survey data implied that France was the only major eurozone economy where the service sector recession deepened in December, with the country's PMI reading falling to 45.2 from 45.8 in November.