HMRC shames tax criminals in picture gallery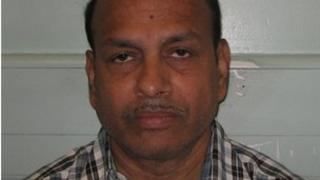 The tax authorities have published the photos of 25 of the UK's biggest tax dodgers convicted in the criminal courts in 2012.
They are among 32 people sentenced to a collective 155 years in jail for tax offences last year.
One is the garlic smuggler Murugasan Natarajan, who jumped bail before being tried and sentenced to six years in jail for dodging £2m of import duty.
Treasury minister David Gauke predicted more convictions in 2013.
"We hope that publishing these pictures will help get across that it always makes sense to declare all your income, and tax dodgers are simply storing up trouble for the future," he said.
HM Revenue and Customs (HMRC) now has the power to name and shame individuals who have tried to avoid at least £25,000 of tax, even if they have not been pursued in the criminal courts.
However, that power, first announced in 2009 and given to HMRC from April 2010, has not yet been used.
Last year, the tax authorities published photos of 20 people tax fugitives who were thought to be responsible for £765m of tax evasion and fraud.
Among the latest batch of photos are fraudsters convicted of organising VAT frauds involving the supposed importation of non-existent mobile phones; alcohol smugglers; and gangs convicted of setting up illegal cigarette factories in the UK.
Others smuggled gold or cigarettes, or failed to pay the VAT due on imported platinum ingots.
HMRC said the 32 people it had chosen to identify were are only a small proportion of the 413 people convicted for tax dodging offences in 2011-12.