German exports post sharp decline in November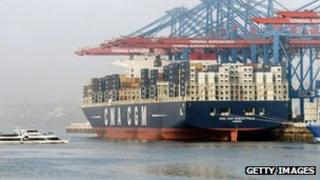 German exports fell sharply in November, hit by the economic weakness in the eurozone.
Its exports fell 3.4% from October, on a seasonally adjusted basis, official figures showed. Compared with a year earlier, exports were unchanged.
Germany's imports in November were also lower, down 3.7% from the month before.
The country is the world's second-biggest exporter after China. About 60% of Germany's exports go to other nations within the European Union.
Economist Christian Schulz, of Berenberg Bank, said: "Germany is suffering from the euro crisis - directly through falling demand and indirectly through weak confidence which weighs on investments."