Virgin Atlantic announces new chief executive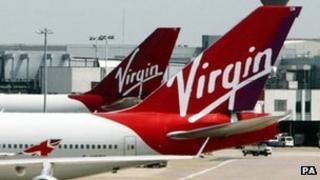 Virgin Atlantic has announced that American Airlines executive Craig Kreeger will be its next chief executive.
Mr Kreeger will take up the job on 1 February, replacing Steve Ridgway, who is retiring after 11 years.
The news comes a month after US carrier Delta Air Lines bought Singapore Airlines' 49% stake in Virgin Atlantic for $360m (£224m).
Virgin founder Sir Richard Branson said Mr Kreeger was the "right person".
"Craig is the right person to succeed Steve Ridgway at this dynamic and challenging time for our airline," said Sir Richard, who remains Virgin's president.
"We believe Craig has the experience and passion to drive Virgin Atlantic forward and capitalise on the opportunities created by our new venture with Delta Airlines."
Virgin and Delta are forming an operational partnership that will give Delta more access to take-off and landing slots at London's Heathrow airport.
US national Mr Kreeger has been with American Airlines since 1985 and spent six years in London, heading up its international operations.
Aviation analyst Gerald Khoo of investment bank Espirito Santo said: "An external appointment was going to be necessary if the airline were to take a different course."
Mr Kreeger is just one of a number of new chief executives to be announced on Tuesday:
Mark Cutifani will take up the top job at Anglo American in April, replacing Cynthia Carroll, who announced in October that she was stepping down following shareholder opposition
At infrastructure group Balfour Beatty, Andrew McNaughton, currently deputy chief executive, is to replace Ian Tyler on 31 March.
The boss of housebuilder Persimmon will retire in April, to be replaced by Jeff Fairburn, currently in charge of the firm's north region
At US retailer Sears, chief executive Louis D'Ambrosio will stand down for family health reasons in early February, being replaced by Edward Lampert, who will add the chief executive job to his current role as chairman.