Barrick Gold ends Africa mine sale plan to Chinese firm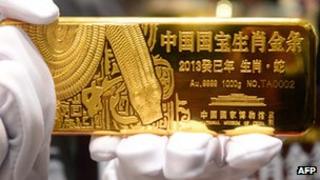 Barrick Gold has ended talks to sell a controlling stake of its African business to China's state-owned miner, China National Gold Group.
The firms failed to agree on a value for a 74% stake in African Barrick Gold, Tanzania's largest gold miner.
The $3bn (£1.9bn; 2.3bn euros) deal would have been the largest gold firm takeover involving a Chinese company.
Barrick is the world's largest gold producer with output of 7.7 million ounces in 2011.
Shares in African Barrick Gold (ABG) slumped 19% to 352 pence by the close of trading in London.
"These discussions were part of our ongoing efforts to identify opportunities to optimise our portfolio," Barrick's Chief Executive Jamie Sokalsky said in a statement.
He added that the company will continue to look for opportunities that "generate acceptable value for Barrick".
Holy Grail?
ABG said it would review its business operations after the collapse of the deal.
The company has struggled to meet production targets in recent years due to rising costs and operational setbacks, and in October it cut 2012 production forecasts.
ABG's mines have faced a series of problems in recent years. In 2011, police killed seven people after a crowd of 800 raided one of the company's mines for gold.
At the same time it failed to hit planned production levels at two other mines.
Analysts say the deal floundered after China National Gold's "due diligence" process into production shortfalls at Barrick's operations.
"Over the last 12 months there has consistently been a decline in gold production at their mines, and they've had to do extra work to seek out higher quality ore, which costs money," David Lennox, resource analyst for Fat Prophets, told the BBC.
Mr Lennox added that the collapse of the deal may show that Chinese firms are becoming less keen on investing in Africa.
"They're discovering that Africa is not the Holy Grail," he said.