UK trade deficit narrows in November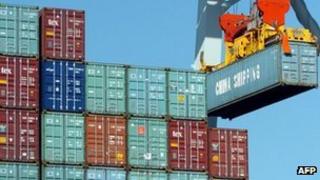 The UK's trade deficit narrowed in November, as exports rose more than imports, official figures have shown.
The seasonally-adjusted deficit on goods and services totalled £3.5bn in November, compared with £3.7bn in October.
Led by chemical sales, the UK's total goods exports increased by 2.9% to £24.8bn, while imports rose by 1.1% to £34bn.
The UK's export and import of services in November remained unchanged.
Services exports were valued at £15.5bn, while imports totalled £9.8bn.
Economist Amit Kara of bank UBS said UK exports remained subdued.
"The trade numbers are a little bit better than last month, but the big picture is broadly flat," he said.
"There is some improvement in exports, but in order to see the economy rebalance and generate anywhere near trend-like growth, we need much better data over the next few months."
Mr Kara added that the economic weakness on the continent continued to have an impact on UK exports.
"Our own view is that the eurozone will continue to disappoint, therefore all the [economic recovery] heavy lifting will have to be done by the UK consumer," he said.