Annuity rates 'dwindled for retirees in 2012'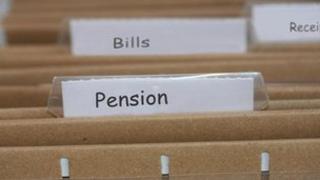 The rates for annuities - products which provide an annual retirement income - have dwindled to their lowest level for years, a report says.
The average annual income for a 65-year-old man buying a standard annuity dropped by 11.5% in 2012, financial information service Moneyfacts said.
This was the biggest drop since 1998.
Meanwhile the Prudential said that this year's retirees expected their income to be £3,400 a year less than workers who retired in 2008.
The gap becomes much worse when taking into account the effects of inflation eating into people's budgets.
Those retiring in 2013 thought they would receive an annual retirement income - from all sources of pensions and investments - of £15,300, according to a survey for the insurer.
Regional differences
The Prudential survey also suggested that retirees expected a different level of retirement income depending on where they lived, with a £5,700-a-year difference between the areas with the highest and the lowest anticipated incomes for people retiring this year.
Londoners expected to retire on an annual income of about £18,200 this year, while retirees in the West Midlands had the lowest anticipated incomes, at £12,500, it said.
Meanwhile, Moneyfacts said that average annuity income had fallen in 15 out of the last 18 calendar years.
A pension annuity converts the funds built up in a pension scheme into a regular income. The income is then payable for the rest of the policyholder's life.
Tom McPhail, head of pensions research at financial services company Hargreaves Lansdown, said: "As a result of the economic downturn, living standards have stagnated across much of society but those approaching retirement have been particularly hard hit.
"Annuity rates have fallen by a third in just four years. For people approaching retirement, that is a huge blow to their expectations at a time when it is probably too late for them to do anything about it."