Jessops camera chain in administration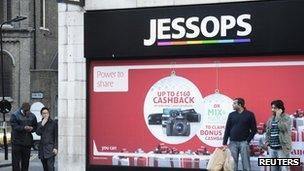 Troubled High Street camera retailer Jessops has gone into administration, with PricewaterhouseCoopers (PwC) appointed as the administrator.
In recent years, it has been hit by increasing competition from supermarkets and internet retailers.
Jessops, which was founded in Leicester in 1935, has 192 stores in the UK and employs about 2,000 staff.
The administrators said that it was "inevitable" that some stores would have to close.
PwC said that while Jessops was a well-known brand with a strong reputation for service, its core marketplace had seen a significant decline in 2012, which was forecast to continue in 2013.
Despite additional funding being made available, Jessops had not generated the profits it had planned, PwC added.
In 2009, Jessops managed to avoid administration by agreeing a debt for equity swap with its lender HSBC.
Jessops becomes the first High Street casualty of 2013, following a raft of firms falling into administration in 2012 including Comet, Clinton Cards, JJB Sports and Game Group.
Rob Hunt, joint administrator and partner at PwC, said: "Our most pressing task is to review the company's financial position and hold discussions with its principal stakeholders to see if the business can be preserved.
"Trading in the stores is hoped to continue today but is critically dependent on these ongoing discussions. However, in the current economic climate it is inevitable that there will be store closures."
PwC added that at present Jessops would not honour customer vouchers or accept returned goods.
However, supermarket Tesco said that it would give a full refund to any customer who had recently exchanged Clubcard vouchers for tokens to spend with Jessops.
Ronnie McQuillan, a film and TV production student from York, won £1,500 worth of Jessops vouchers in a competition and is unsure whether he will be able to get a new camera now.
"I've been ringing the prize company today to see if I can get an alternative prize from another electrical store. I wasn't sure what the situation was," he told the BBC.
"The company say they're going to let me know. They seemed to say it could be resolved, so hopefully I will get a voucher for somewhere new. I'm disappointed because I've been looking at cameras online. It's a real shame."
Neil Saunders, retail analyst at Conlumino, explained the root of Jessops' problems.
"The amateur market collapsed because people who once bought cameras found that they had these things on their smartphones and they used those instead, and the professionals found that they could use online niche specialists who were cheaper and often had more extensive ranges," he said. "So both migrated away from Jessops."
Julie Palmer, a partner at business recovery group Begbies Traynor, said Jessops' administration was "yet another blow" for the UK High Street and showed that January was a high risk month for retailers.
"With substantial cash outflows on the 25 December quarterly rent day combining with fierce pricing competition during the January sales, it puts significant pressure on finances.
"The administration of such a household name can only serve to damage consumer confidence further in the months ahead."
Related Internet Links
The BBC is not responsible for the content of external sites.