Remploy factory re-opens as social enterprise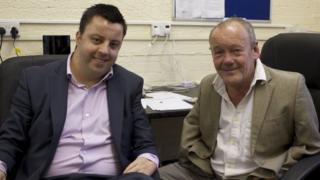 In 2012, 32 Remploy factories closed, making thousands of workers with disabilities redundant.
But one factory in Bolton, had a last minute salvation.
The operation has been revived as a social enterprise, dedicated to employing a 75% disabled workforce with all profits going back into the business or its staff.
The first Remploy factories opened in the 1940s, employing people with disabilities. But with the announcement of cuts from government subsidies in March, the future is now bleak for most of its operations.
"I had to make a bit of a stealthy visit, I think I was [pretending to be] a tax inspector." Oli Randell recalls laughing.
Mr Randell, a 35 year old entrepreneur, was actually there to see if there was a way to save the business.
"The factory was still operating at the time," he told the BBC, and he did not want to raise the hopes of the workforce, who had been told they would lose their jobs.
Mr Randell's business has expertise in HR, marketing and finance. It aims to help small companies take the next step, in order to grow at a manageable pace, by offering them part time experienced board members.
Mr Randell was invited by Greater Manchester Chamber of Commerce to visit Remploy's Bolton factory last summer.
"Every single person looked me in the eye; every single person reacted to me and said 'hi'.
"You don't see that all the time when you go in factories," he said. "There was a lot of warmth there and there was a lot of noise and energy and spark."
As the factory, along with 35 others throughout the country, faced closure, the chief economist for the Greater Manchester Chamber of Commerce, Dr Brian Sloan, wanted to know if Mr Randell and his colleagues could find funding to start a social enterprise.
Dr Sloan thought that if the overheads could be reduced, the £1.5m turnover business - assembling components onto circuit boards - could have a future.
He told the BBC: "There was sound business behind [this] Remploy factory.
"But they were a public sector organisation trying to run as a business."
The initial period for proposals to save Remploy Bolton had closed, and staff had been made redundant. But Mr Randell and his team did ultimately put in a proposal. This was so late in the proceedings that skips were already on site.
The Eleventh Hour
Fortunately for the factory and its workforce, the skips were recalled and the social enterprise, known as Ability Tec, was given the green light.
Former Remploy factory manager Carl Lawton, was the first to be employed, as the director of operations.
Fifty year old Mr Lawton worked for Remploy for 18 years. Before joining Remploy he was frustrated in his career; he had been working as a factory inspector for thirteen years.
At Remploy Mr Lawton's skills were finally developed. He gradually climbed the career ladder from shop floor operator to team leader to production manager. He spent the last five years at Remploy as factory manager.
Describing the day he was told the factory would close brings Mr Lawton close to tears. He does not talk of his "staff" or "employees", but rather his people, his family.
When Mr Lawton and his new colleagues took the keys to the 1,600 square feet (148 square metre) former Remploy factory, they worked out of one office, rather than heat any of the larger rooms.
With some orders left from the Remploy outfit, Ability Tec started a scaled down production line in December, employing three former Remploy staff.
As of today, they are still a small enterprise of seven, but have ambitions to grow.
As a social enterprise, the business owns the assets; it is the employees who own the business, for as long as they are employed by it.
The enterprise hopes eventually to achieve profit sharing. But first the team has a plan to become sustainable - buying new machinery and allowing the business to grow.
The enterprise plans to employ 30 people within the next three years.
Able to work
Another element of the social enterprise is to employ people with disabilities.
Once established, Mr Randell and the team would like to tap into the knowledge and experience of the former Remploy staff and become a training centre for other companies looking to employ a workforce that is disabled.
The team chose the name Ability Tec to highlight staff's abilities, rather than their disabilities.
Teresa Howarth is dyslexic and was concerned about finding work after being made redundant by Remploy.
She told the BBC: "When the Remploy factory closed the future looked bleak really; you hear so many stories that there are no jobs out there.
"It was quite depressing."
Mr Randell has a physical disability, but has never worked with a disabled workforce. Mr Lawton, the enterprise's operations director, is able to offer his 18 years of expertise in this area.
"With Remploy, we trained and developed our people," he said.
"We also knew the abilities and disabilities and how to manage that. That's the strength we've got to go forward."
In exchange Mr Lawton is learning from Mr Randell's financial experience in the commercial sector, and how to win new contracts.
More than a factory
Mr Randell recognises what a great manufacturing unit the former Remploy factory was, but knows business expertise was lacking, making it difficult to find new work and to keep the business moving forward.
It was not only a lack of expertise and high overheads that hindered the business.
Often, Mr Lawton and his fellow management team would spend a great deal of time helping members of staff with learning difficulties with important life skills, such as understanding their household bills.
It was, he says, a family. But as a business, offering this type of individual support - however much it was needed, ultimately was not sustainable.
But there are elements of this family atmosphere that Ability Tec are keen to revive.
On Mr Randell's first visit to the factory, he stopped to read a notice board filled with thank you letters from local school children who had done work experience in the factory.
"They were really heart felt," he recalled.
"[They really appreciated] the opportunity to come and work in a factory and create something and see the results of their endeavours at the end of the day."
The staff have already noticed the difference of working for a social enterprise.
One of Remploy's former workers, Joe Gannon who is deaf, has returned to the factory and is now employed by Ability Tec.
He commented: "The fact it's a social enterprise [means] we're working for ourselves.
"It gives you more encouragement."