HTC launches phones with Burmese language fonts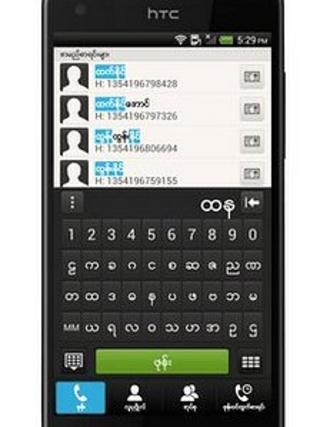 Taiwanese smartphone company HTC has become the latest to enter the largely untapped Burmese market, as the country opens up to foreign firms.
HTC launched its smartphones in Burma, which is also known as Myanmar, on Monday.
The phones will come with a Burmese language on-screen keyboard, which the company says is the most advanced available.
Burma has one of the lowest mobile phone ownership levels in the world.
The country has become one of the hottest frontier markets after its government started implementing reforms to open up the economy, ending decades of military rule.
However, Burma's telecommunications sector remains underdeveloped, with only two carriers in the country.
The government has been cutting the high price of Sim cards, but they remain unaffordable for most of the population.
The World Bank estimated that in 2011, only 3% of the population had a mobile phone.
No agreement on symbols
HTC is not the first smartphone maker to try to tap into the Burmese market. Samsung and Huawei lead the market with their low-cost devices.
However, HTC is hoping to attract consumers with what it calls one of the most advanced Burmese language keyboards in the country.
"My aspiration is to design innovative smartphones that offer full compatibility with the Myanmar language, so that people in Myanmar can enjoy enhanced communications simply and easily," said Mr Chou, who was born and raised in Burma.
Unlike other South East Asian languages, no international standard for language symbols has been agreed upon, making it difficult to integrate into software.
HTC says that its keyboard will be one of the first to offer predictive text capability and smart search functionality in the Burmese language.