Indian inflation eases to 11-month low in December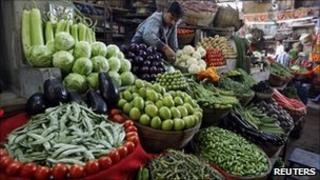 Indian inflation slowed last month, boosting hopes of an interest rate cut when the central bank meets later this month.
The annual rate of inflation eased to 7.18% in December, down from 7.24% in November, according to the Wholesale Price Index - the country's main gauge of inflation.
Inflation is now at its lowest rate in 11 months.
The slight fall continues the downward trend which started in October.
The Reserve Bank of India (RBI) meets on 29 January to discuss interest rates.
Siddhartha Sanyal, chief India economist with Barclays Capital, said he now expected the main interest rate to be cut to 7.75% from 8%.
"The numbers are a relief and core inflation is easing," said Mr Sanyal.
Economic growth has been slowing since last year, falling to an annual pace of 5.3% in the July to September quarter, and there are hopes a rate cut could help to stimulate the economy.
The central bank has not lowered interest rates since April because inflation, fuelled by a weak rupee and more expensive oil imports, has remained above 7%