New Corvette to drive General Motors revival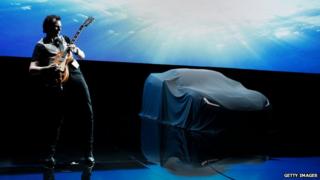 The lights are dimmed and the guitar is whining as the automotive world gets ready to witness one of the year's most anticipated car launches, on the sidelines of the Detroit motor show.
More than eight years after American muscle car fans were last treated to a new Corvette, some 100 people have paid more than $1,000 (£620) to watch the Stingray arrive in the city's Russell Industrial Center.
"This is the name we use to mark special generations of Corvette," says General Motors (GM) North America president Mark Reuss, explicitly linking the new Stingray with the iconic 1963 version made famous by Elvis.
GM wants the world to know that America's original muscle car is ready to pump some serious iron.
The new model shares only two parts with its predecessor, and includes features such as magnesium frames for the seats and an all-new 6.2 litre V8 engine that sends it rocketing from nought to 60mph (0-100km/h) in four seconds.
"Corvette is a world-class athlete that has gone back to the gym and has been in training," says Ed Welburn, GM vice-president of global design.
"It is ready."
Trying times
The Stingray hits the road not a moment too soon.
Last year, GM's market share slipped to 17.9%, its lowest in 88 years, and ever since it was bailed out by President Barack Obama following its 2009 bankruptcy filing, the company has struggled to shed its reputation as "Government Motors". Globally, GM sold fewer cars than Toyota during 2012.
"A lot of people assumed during the bankruptcy that Corvette went away after the bailout," says Jeremy Anwyl, vice chairman of automotive analysts website Edmunds.com.
GM acknowledges that the latest model was born out of trying circumstances, its launch having been pushed back twice.
"We had to stem the tide post-bankruptcy," says chief executive Dan Akerson.
But now, the company is beginning the process of reshaping its identity, starting with its most beloved brand.
"This is the first strong statement of what you might see in the next 12-18 months," says Mr Akerson.
"It speaks to American resurgence in the automotive industry."
Sales of the new Corvette are not expected to push beyond about 30,000 cars per year.
But the hope is that the model will serve as a "halo car" that will attract buyers to Chevrolet and other GM showrooms.
GM is unveiling 12 models in addition to the Corvette at the Detroit motor show and the company says that over the next 18 months 70% of its model portfolio will be made up of refreshed or brand new models.
Over time, some of the features in the Stingray could make their way into other Chevrolet models.
"If they can take some of the key performance technologies and introduce them into vehicles like the Camaro, for instance, and say it's from the Corvette, it does a lot for credibility," says Mr Anwyl.
Old name, young audience
Old or young, 'Vette enthusiasts will still cheer almost any new model and the promise of continued American muscle that it brings.
Larry Courtney is one fan who tuned in to see the Stingray unveiled.
A member of America's Corvette Club of Michigan who has owned four Corvettes, he is planning a 60th birthday party for the car this summer.
"People will constantly come up to you asking 'Can we see it, can we be in it, can we drive it?'," he says during a drive in his '99 Corvette, painted with a gigantic American flag.
As he stops, a five-year-old boy timidly asks whether he can get behind the wheel. Mr Courtney lifts him into the driver's seat and gives him a Corvette baseball cap.
"He'll never forget today," Mr Courtney smiles.
His actions mirror Corvette's ambitions - to attract younger enthusiasts.
Corvette owners are the oldest muscle car fans out there - according to Edmunds.com, more than 46% of them are aged 55 or more, older than any other comparable sports car.
To appeal to younger drivers, the company first revealed the new Stingray in a PlayStation video game, Gran Turismo 5.
The emphasis on the car's interior - the magnesium seat frames, the leather stitching, and the suede steering wheel - are all attempts to lure in buyers who might be attracted to the luxury features of, say, a Porsche 911 but unwilling to pay the higher price.
Mr Welburn says GM has the right idea: The Stingray "needed to be a more youthful design", he says.