South African miner Amplats closes shafts and cuts jobs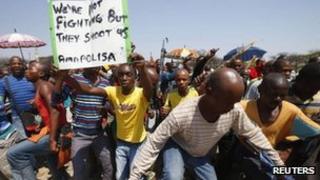 Anglo American Platinum has said it will cease production at four mine shafts in the Rustenburg region of South Africa, which could lead to the loss of almost 14,000 jobs.
The world's biggest platinum producer said lower demand for the precious metal and higher costs meant the shafts were unprofitable.
Amplats said it proposed to create 14,000 jobs to balance the cuts.
Last October, the company fired 12,000 workers after a strike over wages.
It said at the time that weeks of illegal strikes had cost it 700m rand ($80m; £50m) in revenue. The workers were reinstated three weeks later following negotiations with unions.
A number of South Africa's miners were hit by a wave of wildcat strikes in which miners and officials were killed.
Lower profits
On Tuesday, Amplats said it had reviewed its entire business in response to a "number of structural changes" in the industry.
"The platinum business has attractive underlying fundamentals, but we are facing tough decisions to restore profitability to our operations," said chief executive Chris Griffith.
"We must evolve to align the business with our expectations of the platinum market's long-term dynamics and address the structural changes that have eroded profitability over time."
The company said the restructuring would save 3.8bn rand by 2015. This could affect 14,000 jobs, it said, 13,000 of which would be in the Rustenburg area.
Any employees or communities affected by the changes would be provided with "a comprehensive package of support".
Mr Griffith said the restructuring would help create a "sustainable, competitive and profitable business" that would be in a better position to "continue substantial investment [and] provide more secure and stable employment".