HMV: What do the customers think?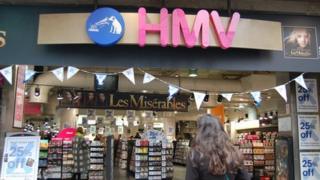 The record chain HMV is insolvent and is on the verge of appointing administrators to try to devise some sort of rescue plan.
The company, which once dominated record retailing in the UK, has been in trouble for years.
Customers outside the Oxford Street branch in central London were sad to hear the news.
The administrators, Deloitte, are going to keep the stores open for the time being in the hope of finding a buyer for the business.
But if it closes, there will be no longer be a national chain of record retailers in the UK, apart from the supermarkets.
Vince Chalmers
"I'm surprised, it seemed to be busy at Christmas.
"I've got a gift card and I can't use it now, they say they can't take it.
"I like going in to browse, I know you can do it online, but I like looking as well."
Albert Grisel
"I'm sorry, because I come here a lot. I hope someone else takes over.
"It seems a lot of people are buying stuff online.
"Well, I haven't got a computer, I'm not online. If they close down, I don't know where I will buy able to buy any more CDs and DVDs."
Trevor Sandy
"It's a disaster, really.
"They should shut down the smaller shops, keep the main shops open and find a buyer somehow.
"It is iconic, it is a place that should not be discarded.
"I often pass here, pop in and buy CDs. I wouldn't like to see them close down. "
Mike Davis
"I think it's a shame. I work in central London, I love coming here to browse, I don't necessarily get the same enjoyment from browsing online.
"It's the same with bookstores; I love Waterstones and I loved Borders when it was still going.
"It would have been lovely to have seen more of those High Street stores, where you can go into a store and pick up something physical and look at it and buy it and enjoy it."
Margaret Light
"They aren't accepting [my £50 gift voucher].
"I paid for it and can't get my money back, they said just to hold on to it and wait and see.
"All the years they have been going, it's very sad."
Freddie
"It's a sign of the times, Jessops went the other day. There's not a lot you can do about it.
"I shop in there from time to time, but like everyone else, I shop from my armchair as well.
"Shopping online is one thing, but being able to see your product and feel your product is different to getting something online."
Nima Faghihi
"It's sad, it's been a bit of an institution really over many, many years.
"So it's sad to see it go after all this time.
"There seems to be more of a trend towards downloading these days."