Fitch warns of risk to UK's AAA credit rating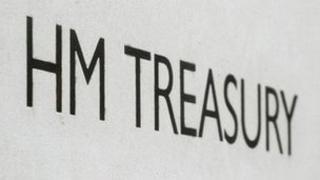 The UK continues to risk losing its top AAA credit rating if it does not reduce its debt, a senior figure at Fitch Ratings has told the BBC.
David Riley reiterated that Fitch was unhappy that the chancellor said in the Autumn Statement that the Treasury would miss its 2015-16 target to start cutting the level of net debt.
Mr Riley said this had weakened the Treasury's "credibility".
The Treasury said it was committed to reducing the public debt.
"The government is committed to getting the public finances back onto a sustainable footing," said a Treasury spokesman.
"The timeline for getting debt falling as a percentage of GDP has been endorsed by international organisations including the IMF and the OECD, as well as the CBI and the governor of the Bank of England."
Fitch has had the UK's AAA rating on "negative" outlook since March 2012, meaning that it is warning it may cut it.
Mr Riley, managing director of Fitch's global sovereigns division, told BBC Radio 4's World At One programme: "One of the factors that has been driving our negative outlook on the UK's AAA rating - and therefore poses a risk to the UK's AAA status - is the fact we have been consistently increasing our projection in terms of the level of government debt, and also pushing out the date and year when the debt will stop rising and start falling."
The UK's net sovereign debt was the equivalent of 68% of the country's annual economic output, or GDP, at the end of last year.
Mr Riley warned that if this was to rise to 100%, "in our view that is not really consistent with the UK retaining a AAA rating".