Mortgage lending picks up again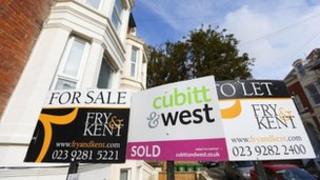 Mortgage lending picked up strongly in November, boosted by a rise in lending to first-time buyers.
The Council of Mortgage Lenders (CML) said the number of new loans to first-timers rose by 8% to 21,700 - up by nearly a quarter on the year before.
The total number of new mortgages, for all types of buyer, rose by 6% in November to 52,700 - 13% up on the previous year.
The CML said first-time loans were at their highest for nearly three years.
The total number of mortgages granted to home buyers was the highest for any November since 2007.
"Encouraging activity in the first-time buyer sector in November contributed to an uplift in house purchase lending, suggesting that the underlying trend for year-on-year increases should continue," said the CML's director general Paul Smee.
"We expect the Funding for Lending scheme to continue to encourage a downward drift in interest rates. This may prompt an increase in remortgage activity as borrowers seek to take advantage of lower rates."
Funding for Lending
Sales in the UK have been rising steadily since the end of last summer, albeit from a very low level.
A key reason seems to have been the government's Funding for Lending Scheme (FLS), launched at the start of August, under which the Bank of England has been offering cheap funds to banks and building societies, provided it is then lent to individuals and non-financial companies.
The big housebuilder Barratt said this had helped to boost its order book by the end of 2012, which was up by 35% on a year ago.
"Whilst the availability of mortgage finance remains the key constraint to industry growth, we have started to see some improvements coming through," the company said.
"Expectations are that mortgage lending should increase in 2013, supported by the Bank of England's Funding for Lending Scheme."
Aaron Strutt of mortgage brokers Trinity Financial said: "It's good news that the first-time buyer lending figures are getting better."
"Over the last few weeks the lenders have reintroduced a lot of 10% deposit mortgages - although there are still very few 5% deposit rates that do not require a guarantor or family assistance.
"First time buyers typically put down a 20% deposit and with the introduction of these new mortgages, this figure may well change over the coming months," he added.
Ashley Brown, of mortgage broker Moneysprite, said real momentum was returning to the property market.
"For months, lenders have been criticised for using the scheme's cheap money to repair their loan books, and accused of only cutting rates for borrowers with large deposits," he said.
"That charge is now looking unfounded. With first-time buyers being tempted back into the market, the sector is finally picking itself off the ground."
On Tuesday, the Royal Institution of Chartered Surveyors (Rics) reported that its members, who work as estate agents, were expecting sales to rise in the first three months of 2013.
"As we start the new year, confidence to the housing market does appear to be improving, helped in part by the impact of the Funding for Leading Scheme," said Peter Bolton King of Rics.
"Our members are predicting that transaction levels will continue increasing in many parts of the country and it may be that we are now over the very worst."