Amplats 'arrogant', says South Africa minister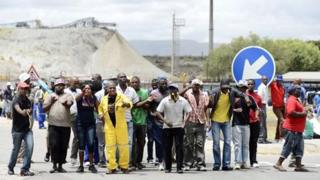 A South African official has called the world's biggest platinum producer "arrogant" after it announced plans to cut 14,000 jobs and shut four shafts.
Mining Minister Susan Shabangu said Anglo American Platinum (Amplats) had not consulted properly with the government on the production cuts.
As a result, it was putting its mining licence in jeopardy, she told South African radio.
Amplats denied the claim and said the cuts were needed to stop losses.
The price of platinum - a precious metal used in the production of car catalytic converters - was 10% lower on average in 2012 compared with 2011.
However, the price has rebounded since the New Year on concern about supply disruptions in South Africa, where 80% of the metal is mined.
'Playing games'
Workers at three Amplats mines in the Rustenburg region of South Africa, where most of the jobs are expected to go, downed tools in protest against the cuts on Wednesday, although only one of the three mines affected has been earmarked for closure.
Over 50 people were killed in strikes and unrest by miners in South Africa last year.
Amplats, which is majority-owned by London-listed mining group Anglo American, plans to cease production at four loss-making mine shafts in Rustenburg.
Shares in Amplats fell 6.8% on the news on the Johannesburg Stock Exchange, while in London, Anglo American shares dropped 2.4%.
The company said it would balance the 14,000 mining jobs that it plans to shed by creating a similar number of new jobs in housing, infrastructure and small business development.
The mining firm stressed the announcement was the start of a consultation process in which it would be speaking to the government and the unions.
Amplats chief executive Chris Griffiths explained the move: "By creating a sustainable, competitive and profitable business, we will be in a stronger position to continue substantial investment, provide more secure and stable employment, and to benefit our customers, suppliers, shareholders... and the South African economy as a whole."
Under South African law, companies must hold a 60-day consultation process before cutting a large number of jobs.
"[The regulation] says we need consultation, not on the basis of time-frames but on the basis of trying to find a solution for all of us. Amplats continues to be arrogant and undermining stakeholders... They've been playing games with us." Susan Shabangu told the South African Broadcasting Corporation.
"How do they expect us to participate... because they have finalised everything," the minister added.