Music labels reeling at HMV woes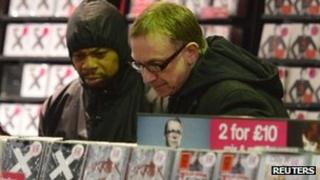 The downfall of retail chain HMV has left many music lovers reeling - and none more so than the enthusiasts who run the UK's independent record labels.
With HMV's 239 stores in administration and a 25%-off sale in full swing, many small companies whose CDs are in the retailer's racks are anxiously waiting to see whether they will lose money as a result of the collapse.
Among those firms is World Music Network, which produces the popular Rough Guide series of world music compilations.
HMV is its most important customer and accounts for 50% of its sales, says Neil Record, who runs the label's sales and distribution department.
"Our sales through HMV have been very positive over the past year or so," he told BBC News, admitting that the chain's demise "came as a bit of a shock".
"We're a little bit in the dark as to whether we're going to get our stock back," he said, adding that a few thousand CDs were at stake.
Generous terms
World Music Network, like most independent labels, does not handle its own distribution. Its CDs are actually delivered to music outlets by Proper Music Distribution, which offers music from up to 600 different small labels from around the world.
Both Proper and Pias, which between them are responsible for getting most non-major label releases into the shops, are understandably reluctant to comment on the potential impact of HMV's plight on their businesses.
But music industry sources have confirmed to the BBC that in an effort to save the retailer from going under, suppliers both big and small have been providing it with stock on far more generous terms than were being extended to its independent counterparts.
Whereas most record shops have to pay suppliers within 30 days of being invoiced, HMV has been granted a 60-day period. The goods have also been supplied on a sale-or-return basis, meaning that HMV does not pay for items unless its customers shell out for them.
"That cut them a lot of slack," said one source. "In many ways, it was a lifeline for them."
Suppliers have also put up with HMV's lack of central distribution, which means that distributors have to cart the CDs directly to individual shops.
December is the busiest month of the year for CD and DVD sales. HMV could normally expect to receive invoices for those sales this month.
With the 60-day grace period kicking in from the end of the month in which the invoice is received, HMV would not have had to pay the bill until springtime.
But now that HMV is in administration, things become more complicated. If HMV closes down completely, World Music Network and its fellow small labels, queuing up for repayment with the rest of the chain's creditors, might never get paid at all.
Rent crisis
But while independent record companies face losses from HMV's woes, at least one major label is potentially on the hook for a great deal more.
HMV used to be part of the EMI record company until 1998, when it was spun off as a separate concern. At the time, EMI agreed to guarantee rental agreements on some of HMV's stores.
When Universal acquired EMI last year, it took on those liabilities. So if those stores are shut down and not relet, Universal could face a rent bill running into tens of millions of pounds.
But back at World Music Network, Neil Record is concerned about how to reach his customers if HMV disappears from the nation's High Streets.
"We knew CDs were under attack from digital sales," he says. "It was inevitable, but we didn't expect it this soon."
Given how big a share of his company's product has been passing through HMV's doors, it's clear that he will have his work cut out to find new markets if HMV fails to survive.