Mothercare UK High Street sales continue to fall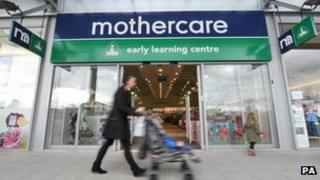 Mothercare has reported a further decline in sales at its UK High Street stores, mitigated by rapid growth in its international business.
The childcare products retailer said total group sales in the 13 weeks to 12 January fell 7.4% from a year ago.
In the UK, the drop was 12.9%, although much of this was due to the closure of 11 more stores. Stripping out this effect, the decline was 5.9%.
In sharp contrast, international sales rose 14.8% over the same period.
Mothercare, which also owns the Early Learning Centre chain, has been scaling down its presence on the UK High Street as part of its turnaround plan, and now has only 269 stores, compared with 311 last April.
However, the decline in like-for-like sales - which excludes the effect of store closures - was faster in the last three months than in the preceding six-month period.
Meanwhile, the retailer has also been busy expanding overseas, with 31 new stores opened outside the UK during the last three months.
"We have made solid progress in [the last quarter], despite a challenging consumer backdrop for the UK and eurozone," said chief executive Simon Calver.
Mothercare's share price fell 4.1% in early London trading on Thursday following the release of the sales figures, but recovered most of its losses later in the day.