Primark sales jump by a quarter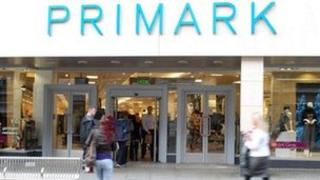 Clothes retailer Primark has said sales jumped by a quarter in the last three months, boosting profits at owner Associated British Foods.
The surprisingly strong sales were due to good performance at existing stores and a big expansion in retail space.
Parent company ABF, which also owns the Twinings, Ovaltine, Ryvita and Jordans brands, said overall revenue rose 10%, despite problems in its groceries unit.
Revenue at its sugar business rose 10% despite poor growing conditions.
Heavy rain in the UK and Spain reduced sugarbeet yields - which helped to raise sugar prices in the short-term, but is expected slow down the rate of sugar production in factories this year.
Meanwhile, its grocery products business saw no growth in revenue, in large part because of a drop in sales at its Australian subsidiary George Weston Foods.
ABF said it still expected profits at the grocery unit to improve, as it puts the cost of restructuring George Weston and Allied Bakeries behind it.
International expansion
ABF said that the sales growth at Primark had topped what were already high expectations.
The news sent the group's share price 7.5% higher by mid-afternoon trading in London, before it fell back to end the day's trading at 3.2%.
The last three months saw 14 new stores open, 10 of them on continental Europe, the firm said, taking its total number worldwide to 256.
The company refurbished its flagship Dublin store, and relocated its Sunderland store to a bigger site.
The sales growth figure was also flattered by a relatively soft performance in the autumn of 2011, against which the more recent sales figures have been compared.
Nonetheless, trade at its Primark stores was more intense than expected, which - along with lower than expected manufacturing costs due to a drop in cotton prices - helped the chain achieve better operating profit margins than a year ago.