Viewpoint: Why 8% may not be the magic number for China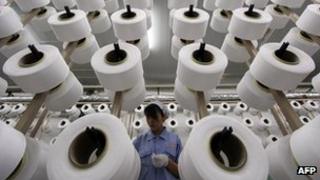 In Chinese tradition, the number eight is considered to be very auspicious. So much so that people are willing to pay extra to have it as part of their home address, car registration or even their phone number.
Eight is also the number that many pundits and China observers have for long touted as the magic figure for China's economy.
They have long presented 8% gross domestic product (GDP) growth as a threshold below which the country's economy could not fall, if it hoped to maintain social stability.
Some have even gone to the extent of suggesting that there is a Faustian bargain between the Chinese government and its people, whereby the people accept the one-party rule of the Communist Party in exchange for the Party ensuring economic growth - above the magical 8% per year number.
The fact that China's economy has not seen growth below 8% since 1999 has only added another dimension to the argument.
In reality, however, there is nothing magical about the number as far China's economy is concerned. Indeed, growth need not remain that high in the coming years for China to continue to be a stable society.
Rising incomes
There is indeed a deal between the Communist Party and the Chinese people, but what it is really about is not a particular growth figure.
It is about the Chinese government stepping out of people's lives and continuing to provide ways for them to make money and improve their quality of life from the end of the Cultural Revolution onward.
At this point in China's economic history, achieving 8% annual growth is no longer essential to accomplishing that, as real poverty has mostly been eradicated.
People on the lower end of the income scale are continuing to get richer in real terms today.
In 2012, China's lowest earners saw their wages rise by 14% on average, while inflation was held to about 2%.
In fact, my company's research suggests that people earning less than 3000 yuan ($480; £300) per month are among the most optimistic segment of Chinese society.
That is because they are seeing their incomes rise in real terms and there is strong demand for workers in a shrinking labour pool.
The low-income labour market remains tight, as many factories and companies are running at 20% below ideal employment numbers.
Social change
People across Chinese society have much more freedom to do what they want without interference from the government.
Before the end of the Cultural Revolution in 1976, the Chinese government's control over people's lives was basically absolute.
During the mass famines of the early 1960s resulting from the Great Leap Forward, which started in 1957, tens of millions of people were not allowed to move around the country freely and so starved to death because they could not leave famine-stricken areas in search of food.
But since the late 1970s, restrictions on movement have been freed up - and what you have seen as a result is the largest rural-to-urban migration in history.
Poor people in the countryside have been able to earn more and improve their families' lives by moving to cities, getting higher-paying jobs and sending money back home.
Subsequent reforms have allowed people to marry and divorce without approval of work units.
Before the 1980s, it was practically impossible for Chinese to obtain a passport and travel overseas. Now they are becoming world travellers.
In 2010, 50 million Chinese travelled abroad, a figure that swelled to 90 million in 2012.
Chinese were the largest spenders per head in London during the 2012 Olympics and account for more than 50% of luxury sales in France.
Restructuring growth
However, while the slowdown in the pace of growth is not disastrous for China, one cannot deny that it is going to pose some difficulties.
The government needs to reset expectations on growth and restructure its economy to keep the deal going.
Since China joined the World Trade Organization in 2001, the country's growth has been driven by exports and investment.
The government's massive stimulus package in the wake of the 2008 financial crisis was heavily weighted toward infrastructure investment.
But now China needs to shift to more of a consumer-driven model and there are signs that it is doing that.
We estimate that in the first nine months of 2012, 55% of China's economic growth came from consumption.
This is the direction China's economy needs to continue to move in, but as it does so, overall growth will necessarily slow.
Chinese people understand that the economic cycle goes up and down. They are not stupid. They can accept lower rates of overall growth as long as their lives are continuing to improve.
However, if they see living costs go up and they are no longer able to afford homes and education for their families, it may start to become a big concern.
Eradicating corruption
Aside from restructuring the economy, China has to help solve corruption.
While many Chinese people can tolerate official corruption up to a certain point, they cannot abide rampant corruption plus economic stagnation, especially if it is at the expense of their own opportunities to make money.
If people feel that their own chances of getting rich are hurt by corruption, it may cause social instability.
Pollution, food quality and safety are the final key issues.
The air quality in Beijing, which was already bad, has been abominable in the last week, and the situation has resulted in widespread anger from the people.
A steady stream of food and product safety scandals has continued, despite repeated official pledges to solve safety issues over the last four or five years.
China's key mission will have to provide real progress on corruption and pollution, as well as food and product safety.
Accomplishing this will be necessary to maintain social stability, but will not necessarily mean reaching 8% annual growth.
In fact, lower growth is healthy, as it will force officials to green-light sustainable businesses, rather than merely approve anything that can help economic growth, despite the effect of pollution.
Shaun Rein is the Founder and Managing Director of the China Market Research Group. The opinions expressed are those of the author and are not held by the BBC unless specifically stated. The material is for general information only and does not constitute investment, tax, legal or other form of advice. You should not rely on this information to make (or refrain from making) any decisions. Links to external sites are for information only and do not constitute endorsement. Always obtain independent, professional advice for your own particular situation.