Argos sees successful transition to click-and-collect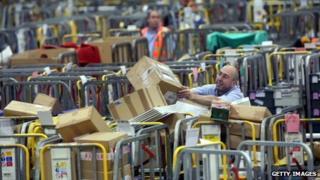 Argos has reported healthy sales growth as it successfully moves to click-and-collect online ordering.
The retailer reported 2.7% like-for-like growth, during its peak autumn period, with consumer electronics, notably tablet computers, selling well.
The firm's "check and reserve" ordering service grew its share of sales from 28% to 31% over the last four months.
Orders placed online via mobiles and tablets more than doubled, and 42% of Argos' business is now done online.
'Achilles' heel'
"Argos has tapped into a rich seam of growth," said Neil Saunders of retail analysts Conlumino, who explained that its old catalogue ordering business and related stock management system meant it was perfectly placed to offer a click-and-collect service, in which customers order online and then collect from stores.
The service is particularly attractive to professional workers with limited time to go shopping, according to Mr Saunders, as well as full-time parents who do not want to drag their children up and down the High Street or hang around at home for a delivery.
"The Achilles' heel for online shopping has been that people are not going to be in when the delivery comes," he explains.
As well as electricals, click-and-collect has been making inroads in the groceries, clothing and small household goods sectors.
Other companies to have launched click-and-collect services include clothes retailer Next and the John Lewis Partnership.
"John Lewis has done a brilliant job," said Mr Saunders. "It has a very good website and range of products, and has integrated its stores - including branches of Waitrose - into its delivery network."
Two-thirds of the partnership's 300 Waitrose branches offer the service, meaning that many potential John Lewis customers who do not have a branch of the department store in their town can instead pick up their purchases on a food shopping trip.
"Customers love the fact that they are in control and can decide where and when to collect," said Karen Dracou, in charge of managing John Lewis' cross-channel strategy.
Starting from scratch two years ago, despite some teething problems, click-and-collect sales doubled in the last year, and now represents one-third of John Lewis' online sales and over 8% of total sales.
Changing High Street
Like Argos, fashion chain Next enjoyed a natural starting point in the form of its old directory business on which to build an online business.
"Next has been very pioneering with the speed and flexibility of its delivery," said Mr Saunders, pointing to the fact that it will take orders up until 9pm for next day collection - something that rivals such as Marks and Spencer have struggled to match.
The past few weeks have been described as one of the most difficult times for retailers following the collapse of Jessops and Comet, while HMV and Blockbuster face an uncertain future after they went into administration, having both notably failed to cope with competition from online competitors.
In this context, click-and-collect has been hailed as a rare positive development for the High Street.
Some analysts have suggested that, in future, many retailers should turn their shops into showrooms and distribution points for their online operations.
"The High Street is going to look a very different place in a year's time," said Adrian Quine, director of the British Online Retailing Association.
"Retailers must realise that now the High Street is here to compliment their online operation and not the other way around."
Amazon has also built out its capacity to offer customers the option to collect items at their convenience. As well as old-school doorstep couriers, Amazon also offers collection at local shops such as Spa, as well as from security code-controlled lockers.
Technology, however, is not the only way forward. Primark - who has just reported a 25% jump in sales - does very little of its trade online, and has instead focused on price competitiveness and keeping up with fashion trends.
Margins
Besides its online strategy, Argos' sales were also boosted by the strong demand for gadgets, particularly tablets, over Christmas.
The retailer can also now expect to benefit from the demise of competitor Comet just before Christmas.
Terry Duddy, chief executive of Argos' parent, Home Retail Group, said the strong sales meant the group's pre-tax profits were on course to beat forecasts.
He said profits could be £10m higher than the £73m previously expected on average by market analysts.
Shares in its parent, Home Retail Group, which also owns DIY chain Homebase, jumped 15% on the news.
Home Retail Group also said the decline at its DIY chain Homebase slowed to a 3.9% drop in sales versus a year ago.
"Whilst we anticipate consumer confidence will remain subdued in the coming year, we are focused on delivering the transformation plan to reinvent Argos as a digital retail leader and the ongoing development of the Homebase proposition," he said.
The sales figures for both units exclude the impact of store closures. Including this effect, sales in the 18 weeks to 5 January rose 1.6% at Argos, and fell 4.5% at Homebase.
Three more Homebase stores closed during the reporting period, cutting the total number to 337. The number of Argos stores held steady at 739 during the reporting period, but a further nine stores have been shuttered since the New Year.
Home Retail Group said profit margins at both units were squeezed, but for different reasons.
At Argos, profits were hurt mainly by the shift in customer demand to lower-margin tablets - a problem also reported by Dixons Retail, the owner of Currys and PC World.
Margins at Homebase were cut by more aggressive price discounts as part of the chain's clearance sales.