Bank of America profits fall after bad debt charges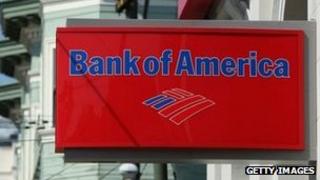 Bank of America has reported a big fall in quarterly profits after it had to take another financial hit on bad mortgage debt.
The second-largest bank in the US made a net profit of $732m (£457m) in the last three months of 2011, down from $2bn a year earlier.
The bank's latest one-off charges of more than $5bn date back to the US housing market collapse of 2007-08.
Separately, Citigroup reported a rise in fourth-quarter profits
'Further growth'
Bank of America's one-off charges included a payment of $2.7bn to US government mortgage agency Fannie Mae to settle claims relating to residential home loans. Bank of America confirmed earlier this month that it will pay Fannie Mae $11.6bn in total.
Revenues at the bank in the final quarter of 2012 fell 26% to $19.6bn.
Despite the fall in both profits and revenues, Bank of America chief executive Brian Moynihan said the bank entered 2013 "strong and well positioned for further growth".
The bank's chief financial officer Bruce Thompson added that the bank was now leaving the US housing market crisis behind.
"We've put a lot of risk behind us in 2012, and we just feel we're in a much better place as we head into 2013," he said.
However, he added that the bank could announce further job losses. It cut 5,400 positions in the final quarter of last year, bringing the total to 267,190.
Citigroup figures
Fellow bank Citigroup also reported its fourth quarter results on Thursday, seeing its profits rise despite $2.32bn of one-off charges.
Its net income in the final three months of 2012 totalled $1.2bn, compared with $956m a year earlier.
Citigroup's one-off charges included the cost of job losses as it restructured the business, and an accounting charge relating to its debt.
Its revenues rose 8% to $18.7bn
Bank of America and Citigroup's results come a day after rivals Goldman Sachs and JP Morgan both reported sharp rises in profits on the back of strong performances by their investment banking arms.