Boeing 787: Dreamliner's lithium ion batteries probed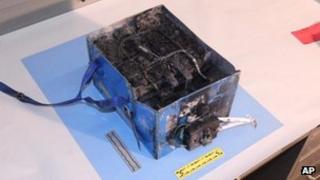 The lithium-ion batteries used in Boeing's 787 Dreamliner are central to the design of a plane which is billed as being lighter and 20% more fuel efficient than earlier generations of jet.
This type of battery has an unusually high energy density, which means the units can be smaller and thus lighter for a given amount of power than traditional batteries.
All planes have batteries, but the Dreamliner needs especially powerful ones because its control systems are driven entirely by electrical signals in place of the hydraulic controls seen on earlier generations of jet.
To meet the need for low weight and high power output, the designers opted for the same lithium ion technology as used in the batteries of most modern smartphones and laptop computers, where the demands are rather similar, but on a much smaller scale.
Lithium-ion units have another big advantage: they can be moulded into a variety of shapes. This flexibility means the battery can be designed to fit in awkward places, important when space is at a premium.
Boeing is not the only aircraft maker to use lithium batteries - there is one such battery on the Airbus A380 superjumbo, but the Dreamliner features these batteries on a much more extensive scale than other recent planes.
During the design phase, regulators expressed concerns and insisted on a new specially drawn-up set of regulations to ensure battery safety.
Lithium ion units were already known to have a number of potentially serious safety drawbacks. They need more careful management than other types of battery.
In recent years, there have been cases of battery packs on laptops and smartphones smoking and catching fire. Problems of this nature on some Sony Vaio laptops drew considerable media attention some years ago.
Unless carefully managed, Lithium ion batteries can be prone to what is referred to as "thermal runaway" due to the nature of its chemistry.
Once the battery reaches a certain temperature, it can start self-heating with potentially disastrous results.
The units are also seen as especially vulnerable to problems and leaks of battery fluid. Once the problems start, the fluid is prone to ignite.
As yet, it is not clear what caused the two battery incidents that led to US regulators ordering the 787 to be grounded. It could be the batteries themselves, the charging system or the plane's electrical system.
Experts say the problems with the batteries are unlikely to be of a fundamental nature that requires the plane to be redesigned or the batteries entirely replaced. The chances are it is a manufacturing issue or a failing in how the battery packs are looked after.
Boeing has bet its future on the success of this plane, which has taken many years and billions of dollars to develop. It reportedly needs to sell a thousand of them just to break even. This will be a nervous time at Boeing HQ even though it is likely the battery issues probably can be rectified without a fundamental redesign.
Fuel tanks
8 Jan 2013: Take-off aborted after about 150 litres of fuel spill from Japan Airlines Dreamliner in Boston
13 Jan: Same aircraft experiences another, separate fuel leak while undergoing tests in Tokyo
Electronics
4 Dec 2012: A United Airlines 787 makes emergency landing in New Orleans after electrical problems
13 Dec: Qatar Airways 787 grounded after electrical power distribution problems
17 Dec: United finds electrical problem in second aircraft
7 Jan 2013: Fire starts in lithium ion battery pack of Japan Airlines 787 in Boston
8 Jan: United Airlines also finds faulty wiring to battery
Engines
July 2012: Fan shaft on engine fails during runway tests at Charleston International Airport
11 Jan 2013: Oil leak found in engine of All Nippon Airways 787 flight
Brakes
9 Jan 2013: All Nippon Airways cancels flight when computer wrongly reports a brake problem
Cockpit
11 Jan 2013: Cockpit window on an All Nippon Airways Dreamliner cracks during a Japanese domestic flight. The plane lands safely with no injuries
15 Jan: Another Dreamliner operated by ANA makes an emergency landing at Takamatsu in Japan after a smoke alert goes off