Cold weather triggers cash help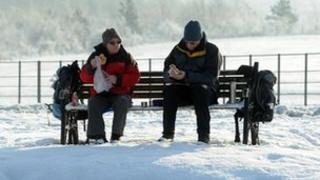 Cold weather payments are set to surge as a result of the freezing weather engulfing much of the UK.
The conditions had already triggered payments to two million people in the last week, at a total cost of £50m, the Department for Work and Pensions said.
Payments go to those on Pension Credit and many other income-related benefits.
Each seven-day period of freezing temperatures results in an automatic £25 addition to help families to keep warm.
The coldest areas this year have been Aviemore, Braemar and Loch Glasgarnoch in the Scottish Highlands. They have all had these seven-day trigger periods on four occasions this winter
There have been a number of areas in England which have had qualifying cold spells, including Bingley, Sheffield, Norwich, Nottingham, Bedford and High Wycombe.
People in several areas of Wales have had the money, among them Capel Curig, Lake Vyrnwy and Sennybridge.
However, around 1.5m pensioners are missing out, the result of not claiming Pension Credit even though they are struggling on low incomes. They need to put in a Pension Credit claim in order to receive the payments.
"I want to ensure the most vulnerable people know about the support that is available," said Steve Webb, the pensions minister.
"With more cold weather expected in the next week people should not have to worry about turning up the heating when temperatures plummet."
Payments so far this winter are behind the total of £129m last winter, and well short of 2010-11 which saw £430m distributed in 17 million payments.