China economy: Experts react to growth data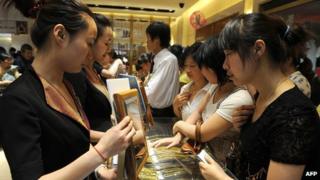 China's economy rebounded in the last quarter of 2012, growing by 7.9%, compared with growth of 7.4% seen in the previous three months.
However, it was not enough to prevent the country's worst annual performance in 13 years as growth for the whole of 2012 came in at 7.8%.
The data comes as China's newly elected leaders get ready to take charge of the country in the coming months.
Here is a look at what some economists and China watchers have to say about the latest numbers.
Fraser Howie, co-author, Red Capitalism
Once again the numbers coming out of China have surprised on the upside. It is obvious that the slowdown in the Chinese economy has halted for the moment.
But one has to be mindful that any recovery will be limited in its scope, not least because of the various headwinds that China is facing.
To begin with, economic conditions in some of China's biggest export markets such as the US, eurozone and Japan continue to remain fragile.
The eurozone is still struggling to come out of its debt crisis, the US recovery is still under pressure and the political tensions with Japan haven't helped China's cause either.
It also faces challenges on the domestic front where property prices have started to rise again.
This has been a big area of concern in the past and the government has previously introduced measures to cool the market.
Those measures were in part responsible for slowing China's economic growth in recent months, as the property and construction sectors are key contributors to China's growth.
The new leaders, who take charge in March, will now have to find the right balance between trying to prevent the formation of a property bubble and keeping a healthy growth rate going.
That brings us to the the next big issue.
Credit has historically been a big driver of growth in China and that hasn't changed much.
Uncontrolled borrowing tends to lead to a lot of wasted investment - which increases the prospects of bad debts - as well as the risk of higher inflation, both of which China needs to keep in check.
The question is what will happen when the pace of credit growth declines.
Xianfang Ren, senior economist, IHS
The data confirms that the worst is probably over for the economy and that China has avoided a hard landing.
However, the rebound by itself looks quite shaky and there is still quite some ground to cover between rebound and recovery.
The economy will likely be wiggling within quite a narrow band of growth rates in 2013, as the upside pull only marginally outweighs the downside drag.
Upside forces have started building since the last quarter of 2012, partly thanks to the turn of the destocking cycle and partly thanks to government interventions - from quantitative easing in advanced economies to the domestic mini-stimulus programme.
In addition, the housing construction sector could be turning the corner soon with strengthening property sales.
But downside pressure remains large, foremost from the huge capacity overhang built over the past decade of investment expansion, further exacerbated by the 2009-10 investment boom.
At the same time, exports growth, one of the biggest drivers of growth in the past, will be rather flat, as the eurozone will remain in recession and the US economy will slow down, hurting demand for Chinese goods.
Despite high expectations for growth to be unleashed by reform and the new urbanisation drive, we don't think their impact on the economy will show up immediately in 2013 even if implemented successfully.
We are projecting around 8% growth for China this year, as it slips to a new normal of slower growth.
Jian Chang, China and Hong Kong economist, Barclays
Overall the data came broadly in line with expectations or slightly better.
They point to continued improvement in the year-on-year industrial production growth, and confirm our view of sustained and robust consumption growth.
However, for 2013, we remain cautious about China's recovery given external uncertainties and believe that rising financial and fiscal risks will constrain further policy easing.
We expect the government to boost its stimulus measures moderately, though it is unlikely to ease its monetary policy.
At the same time, we expect gradual reforms to continue.
It is also likely that new investment and infrastructure projects will be announced.
All these measures, coupled with improving domestic consumption and stabilising exports, are likely to help sustain growth at its potential level of around 8%.
Another infrastructure boom is also possible, although it is not in our baseline.
All in all, the rebalancing of the Chinese economy is underway and consumption will continue to be supported by stable employment condition and double-digit wage growth.
However, a bigger challenge is to control rising financial risks from shadow banking activities and surging local government borrowing in the near term, and to create a conducive environment and level playing field for industries to move up the value chain in the medium term.