UK mortgage market 'now more robust'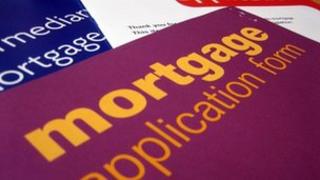 Mortgage lending in the UK in 2012 was little changed on 2011 but ended the year in more "robust" form, a lenders' group has said.
Gross UK mortgage lending reached an estimated £11.7bn in December, pushing the total for the year to £143bn.
This was £2bn higher than the previous year, according to the Council of Mortgage Lenders (CML).
But greater availability of mortgages at cheaper rates at the end of the year mean a continued pick-up is expected.
"We are more positive about the UK housing market and wider economy than a year ago, despite economic headwinds and downside risks," said CML chief economist Bob Pannell.
"House purchase activity was robust in the fourth quarter, on the back of better mortgage availability and pricing, and we expect this to continue over the coming months."
Although lending in December 2012 was slightly lower than the same month a year earlier, the CML forecasts that gross lending will reach £156bn in 2013.
Indirect effect
The key reason behind the lift in the mortgage market is the Funding for Lending scheme, which was launched at the start of August.
The Bank of England has been offering cheap funds to banks and building societies, provided it is then lent to individuals and non-financial companies.
The CML pointed out that this has helped to create some momentum, but this is not necessarily a direct result of the cheaper funds available. Instead it is that FLS has allowed banks some wriggle room.
"It is worth noting that the amount actually drawn under FLS - about £4bn, according to the Bank's early December report - is relatively small so far," said Mr Pannell.
"This suggests that much of the initial benefit from the FLS has been an indirect one, as UK lenders need to raise less money from wholesale or retail sources."
The Bank of England's own Trends in Lending figures, also published on Monday, confirmed that UK mortgage approvals for house purchase and remortgaging were higher in the three months to November than the previous three months. First-time buyers were among those who have created more demand.
"As the increased demand slowly translates to higher house prices, it should also translate into progress for both the property and mortgage markets. But after the lessons of the past decade, this time any growth will be steady rather than stellar," said Yasin Patel, director mortgage lender Mayfair Bridging.
Blow to savers
While Funding for Lending has helped to lower rates for mortgage customers, research suggests that it has struck another blow to savers.
The access to a flow of funds from the Bank of England means that banks and building societies do not need to be so competitive when chasing deposits from savers.
This has pushed down rates, and reduced the number of tempting introductory offers that have been a feature of savings accounts in the past.
Earlier this month, financial information service Moneyfacts said that there were 470 easy access savings accounts available at the start of August, 73 of which offered introductory bonuses. Yet, by the start of January, the total number available had dropped by 54 to 416, 46 of which included a bonus.
These bonuses generally offered a higher rate of interest for the first 12 months or so after an account is opened.