Tax evasion: Criminal crackdown to accelerate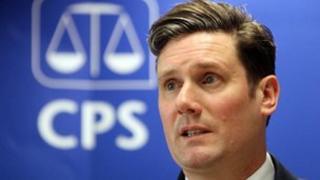 More cases of tax evasion will be taken to the criminal courts as the Crown Prosecution Service (CPS) accelerates its crackdown in this area.
Keir Starmer, the director of public prosecutions (DPP), is expected to say on Tuesday that the need to "deter, detect and prosecute" tax evasion is greater given the economic climate.
Tax authority figures suggest evasion costs the UK economy £14bn a year.
The CPS wants a five-fold rise in prosecutions in as many years.
Civil or criminal
Tax evasion is illegal, whereas tax avoidance is legal but has been put under the microscope by politicians and campaigners in recent months.
HM Revenue and Customs (HMRC) is the investigating authority in the UK. It has the power to levy financial penalties and order tax to be repaid.
However, in the most serious cases of evasion it now provides the evidence to the CPS to make a decision on criminal charges in England and Wales. It has similar agreement in Scotland and Northern Ireland via the Crown Office and Procurator Fiscal Service and the Public Prosecution Service Northern Ireland.
These criminal prosecutions come when there is evidence of forged documents, links to suspected wider criminality, when somebody in a position of trust or responsibility is allegedly involved, and where conspiracy is suspected.
The CPS secured 200 tax evasion convictions in 2010-11, but stepped up its crackdown with 550 convictions in 2011-12.
'Real hardship'
In a speech on Tuesday, the DPP will say that the CPS is aiming for a five-fold increase in prosecutions in five years from 2010.
The target is for 1,500 prosecutions by 2014-15. Not all will result in conviction, although nearly nine in 10 tax evasion cases taken by the CPS do so at present.
Mr Starmer will say that a decision has been taken to "radically increase" the number of prosecutions. Senior judges have also made it clear that large scale tax evasion, even without previous convictions, will lead to "significant" prison sentences.
"Tax evasion has to be dealt with robustly all the time. But in a recession, when ordinary law abiding taxpayers are suffering real hardship, the need to deter, detect and prosecute those who evade tax is greater than ever," Mr Starmer is expected to say in the speech.
"There is a longstanding myth that unlike many other offences that the CPS has to deal with, tax evasion is a victimless crime. But many would be outraged if money was stolen from their personal bank accounts."
He will say that the amount of money lost to tax evasion is the equivalent of £530 for every household in the UK. This could have been spent on areas such as schools, hospitals, firefighters, police and public services.
Prosecutions will not only target individuals and organised criminals, he will say. The CPS and HMRC will also target those who set up dishonest tax avoidance schemes.
However, the CPS said it would need more resources to keep the conviction rate rising.
"The CPS is well placed to ramp up our response to tax evasion with a dedicated team of specialist fraud prosecutors who work closely with investigators from an early stage," a CPS spokesman said.
"Future increases will be a challenge however, and we will be speaking to government about how best that is managed."
The CPS took on tax evasion cases after it was merged with the Revenue and Customs Prosecution Office a few years ago.
HMRC has been targeting various professions, telling lawyers, doctors, dentists, tutors, coaches and others to come forward with unpaid tax or face fines, instead of receiving visits from inspectors.
"We are working closely with the CPS and other law enforcement agencies to end the kind of practices the DPP is talking about," said a spokesman for HMRC.
"The vast majority of taxpayers are honest and pay what they have to under the law. They rightly expect us to tackle the small minority of cheats who deprive the country of vital revenues and we are using every penny of our additional resources tackle the cheats."
Patricia Mock, of accountancy firm Deloitte, said that by securing some notable convictions, the CPS was finding "a sensible way of creating a deterrent against evasion".