Bumi probe unable to back irregularity claims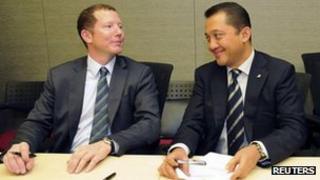 Coal miner Bumi has said it is unable to substantiate claims of potential financial and other irregularities at its Indonesian operations.
Bumi had launched a probe into PT Bumi Resources in which it owns a 29% stake.
It said "the unwillingness of key parties to be interviewed and provide information" meant it could not prove the allegations.
PT Bumi Resources is controlled by Indonesia's Bakrie family, one of the co-founders of London-listed Bumi.
"The company confirms that there is circumstantial evidence to support a number of the allegations but they have not been substantiated," Bumi said in a statement.
'Unacceptable legal risks'
The probe was launched after Nathaniel Rothschild, co-founder of Bumi, provided information to the board about allegations of potential misuse of development funds and other assets at the firm.
Mr Rothschild claimed that he had got the information from a whistleblower, but did not disclose the name of his source.
However, Bumi said that an investigation carried out on its behalf by London law firm Macfarlanes revealed that the information had been "obtained illegally by email hacking".
It added that it was unable to disclose the findings of Macfarlanes' report "due to exposure to unacceptable legal risks that exist (primarily in Indonesia) as a result of the undisclosed provenance of the materials which formed the basis of the investigation, together with the unsubstantiated nature of the allegations".
The allegations and the subsequent probe have dented relations between Mr Rothschild and the Bakrie family.
Last year, the Bakrie family offered to buy back its assets from Bumi for an estimated $1.4bn (£870m) and split from the firm.
However, Mr Rothschild opposed the proposal and resigned from the firm's board.
He has since called for a shareholder vote in an attempt to return to the board and take control of the firm.