Cathay Pacific offers early retirement to cut costs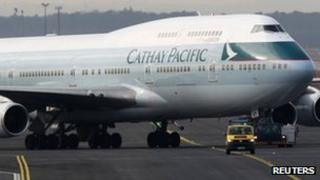 Hong Kong's Cathay Pacific has offered voluntary retirement to its cabin crew, as the airline looks to trim costs.
The carrier has been looking to turn around its fortunes after making a HK$935m ($121m; £76m) loss in the first half of 2012.
The move also comes just weeks after Cathay averted a potential strike by its cabin crew over a pay dispute.
The airline sector has been hurt by volatile fuel costs and a dip in travel demand amid a global economic slowdown.
Earlier this year, Singapore Airlines, another leading regional carrier, offered unpaid leave to its pilots.
Cathay Pacific said the voluntary retirement plan applies only to cabin crew based in Hong Kong, who joined the airline before September 1996.
The airline added that the scheme will also help in creating promotion opportunities for the younger members of the crew.
Cathay said it has more than 8,000 cabin crew based in Hong Kong.