Davos 2013: IMF official says fixing banking still slow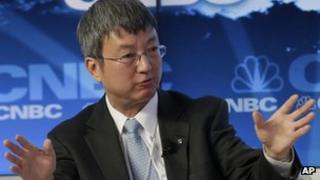 The financial industry still has a long way to go to fix itself, the International Monetary Fund's (IMF's) deputy director general has said.
Financial products remain complex and shadow banking continues to be unregulated, Min Zhu told bankers at the World Economic Forum.
He urged bankers and regulators to cooperate more closely.
But JP Morgan chief executive Jamie Dimon hit back, arguing that better - not more - regulation was needed.
The International Monetary Fund's Min Zhu said: "In the past five years we tried to solve so many things, but there still are a lot of things on the table."
'Progress is uneven'
"With all the debates going on, the financial market structure didn't change very much. We're not safer yet," Mr Zhu told a panel including Mr Dimon, UBS chairman Axel Weber, and Prudential chief executive Tidjane Thiam.
Andrey Kostin, the head of Russia's VTB bank and Paul Singer, who runs Elliott Management, the $21.5bn (£13.5bn) hedge fund, were also present.
While some banks continue to wind down their debt piles, the global economy's exposure to the financial sector remains large. The entire banking industry still makes up more than 60% of the world's annual economic output, said Mr Zhu.
This is partly because many banks are increasingly turning to capital markets to operate - away from traditional banking activities, he said.
That could be potentially hazardous; the financial crisis showed that reliance on the markets instead of depositors' money to fund lending and other activities made banks vulnerable. Northern Rock, for example, nearly collapsed in 2007 after credit markets seized up, forcing it to seek a government bailout.
Regulators and bankers are not cooperating enough either, said Mr Zhu.
"The debate between needing more regulating or over-regulating is important, but what is more important is that we need financial institutions working with regulators to solving them. Progress is really uneven."
'Getting it right'
But JP Morgan chief executive Jamie Dimon defended bankers, and argued that regulators, whom he described as being "overwhelmed" with the complexity and the magnitude of their task, were "trying to do too much, too fast."
"You want good, strong regulation. You don't want taxpayers to pay... big banks should go bankrupt in ways that won't damage economies. There are right and wrong answers. We should get it right," he said.
"[The debate] is not like more or less [regulation]. Unless we solve this binary question we won't get anything solved."
"Finance is a critical part of how the economy functions," he said, adding that JP Morgan raised more than $7trn for clients since 2008 and is lending $15bn dollars (net of collaterial derivatives) to struggling Spain and Italy.
"If you're in a barter economy, there are no financial assets. Once a society starts to save, there are financial assets, and you want there to be financial assets," he said.
"I wish the world would sit down get their people together… we have so many things coming, it's not going to fix, it's just five more years pointing fingers, scapegoating, using misinformation, and thinking we're making a better system."
'Global standard'
Mr Weber, the UBS chairman and former president of Germany's central bank, called for a global regulatory standard that would allow banks to avoid fine-tuning their risk operations in individual countries.
"Regulators have reduced the complexity of products, but they have increased regulatory complexity so it's more complex for bank management," he said. But he said banks were essentially responsible for making changes, or else regulators would do it for them.
"The public perception of how banks are going forward will be shaped by governance, how we deal with legacy issues, how remuneration systems evolve."
"If that reaction does not come about...we will have more prescriptive hands-on regulations of banks."