Ikea reports record profits despite downturns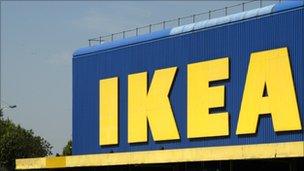 Swedish flat-pack furniture giant Ikea has reported record global profits thanks to "more value conscious" consumers in the economic downturn.
The company said full-year net profits rose 8% to 3.2bn euros (£2.7bn) over the 2011-12 financial year.
Total sales at the firm totalled 27.6bn euros in the 12 months to August 2012.
Ikea has stores in 38 countries. Earlier this week it moved a step closer to entering the lucrative Indian market.
It plans to open 25 stores in India over the next 15 to 20 years, and received approval from India's foreign investment agency on Tuesday.
The retailer said its focus on offering cheaper products had boosted sales amid recessions around the world.
Currently its biggest markets are in Germany and the US.
"Customers are getting more and more value conscious, which makes IKEA a better choice," the company said in its summary of the year.
However operating profits were down 3%, with higher costs of raw materials blamed.