US backs washing machine import duties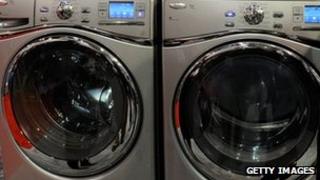 US trade authorities have approved imposing import taxes on washing machines from Korea that it believes are subsidised by its government.
The US International Trade Commission also approved anti-dumping duties on washing machines from Korea and Mexico, which it says are being sold too cheaply in the US.
The ruling follows a case brought by washing machine manufacturer Whirlpool.
The company called the ruling "a great victory for the US appliance industry".
"We expect this ruling will restore a level competitive playing field that enables Whirlpool and other US manufacturers to continue investing in America to produce the high-quality, innovative products that consumers deserve," added the company's boss Marc Blitzer.