Japan posts record high trade deficit in 2012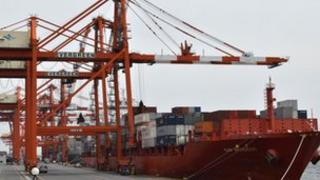 Japan has posted a record high trade deficit for 2012, as exports to Europe and China continued their plunge.
The trade gap rose to 6.9tn yen ($78bn; £49bn) for the full year, the ministry of finance said.
It comes after election promises by Japan's new Prime Minister Shinzo Abe to boost the economy, and recent monetary stimulus by the central bank.
Analysts said the deficit may have bottomed out, as exports are expected to improve in coming months.
"As exports pick up due to gradual recovery in the global economy, Japan's trade deficit is likely to shrink in the coming months," said Tatsushi Shikano, from Mitusbishi UFJ Morgan in Tokyo.
"Although it is unlikely to swing to a surplus this year as the export recovery will be modest and imports are likely to remain high due to elevated oil import costs."
Sliding shipments
Japanese exports have been falling for seven consecutive months. Shipments fell 5.8% in December, compared to the previous year.
One of the reasons is the strength of the yen, which makes products more expensive overseas.
Japanese exporters have also been hit by sluggish demand from debt-laden Europe, as well as a territorial dispute with China, which prompted a boycott of Japanese products, such as cars, on the mainland.
To tackle the strength of the yen, and other issues facing the economy such as decades of deflation, Mr Abe has been pressing the Bank of Japan (BOJ) to implement bold monetary easing policies.
Earlier this week, the BOJ doubled its inflation target to 2% and said it would implement open-ended asset buying from 2014.
Even before the announcement the yen had fallen 7% against the US dollar in the last two months from previous record highs, as investors anticipated the move.
Energy needs
Along with falling exports, Japan is struggling with rising imports, as it looks to meet its energy requirements.
Imports rose 1.9% in December compared to the year before, ministry data showed, with energy imports swelling 34%.
Japan has had to import fuels from abroad after its nuclear power plants were taken offline following the earthquake and tsunami in 2011.
The natural disaster triggered a meltdown at the Fukushima Daiichi plant, which in turn has stoked strong anti-nuclear sentiment in the country.
Japan had previously relied on nuclear energy for about 30% of its power generation.
The spike in energy imports was one of the main reasons Japan posted its first trade deficit in more than 30 years in 2011 of 2.56tn yen.