Commerzbank plans 6,000 job cuts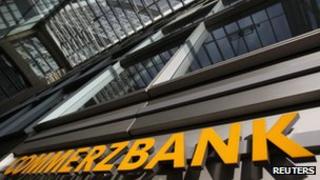 Germany's second-biggest lender Commerzbank is planning to cut as many as 6,000 jobs, or more than 10% of its workforce.
The bank said it wants to cut between 4,000 and 6,000 full-time employees by 2016. Commerzbank currently employs 56,000 staff, of which 49,000 are full-time.
The bank said it was planning to invest more than 2bn euros (£1.7bn; $2.7bn) as it overhauls its retail banking.
Shares in the bank fell 1.9%.
In June, Commerzbank was downgraded by ratings agency Moody's. In addition to having its rating cut, Commerzbank was placed on negative outlook, meaning Moody's is considering a further cut.
The agency said that was because of the bank's exposure to the eurozone periphery, as well as its concentration of loans to single sectors and borrowers.
Some are sceptical that this latest round of job cuts will help much.
"The cuts are not very ambitious," said analyst Guido Hoymann from Metzler Securities. "I would have expected them to be carried out faster - until 2016, that is a long way off."