Hyundai Motors' profits slide as strong won hits earnings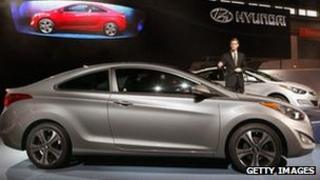 Hyundai Motors has reported a dip in profits, despite a jump in sales, as a strong South Korean won hit its overseas earnings.
The carmaker made a net profit of 1.9 trillion won ($1.8bn; £1.1bn) in the October to December quarter.
That is down from the 2tn won it made during the same period a year earlier.
The won has risen almost 5% against the US dollar since October last year. That hurts firms when they repatriate their foreign earnings back home.
A strong won also makes South Korean goods more expensive to foreign buyers.
'Challenging year'
South Korean firms such as Hyundai compete directly with Japanese firms in key export markets.
While the South Korean companies have had to battle with a rising currency, Japanese firms, which for a long time had a similar problem, are likely to benefit from the recent weakening of the yen.
The Japanese currency has dropped nearly 15% against the US dollar since October last year.
That not only makes Japanese goods more affordable to foreign buyers, but also boosts the earnings of Japanese firms that rely on foreign sales.
Analysts said the opposite trends in the South Korean and Japanese currencies were likely to continue in the coming months, and pose a big challenge to Hyundai.
"With the yen seen weakening further, while the won is set to keep rising, Hyundai's ability to overcome worsening external factors will be put to the test this year," said Lim Hyung-geun, a fund manager at GS Asset Management.
He added that Hyundai does not plan to launch any major models this year, which would make 2013 a "very challenging year" for the firm.
Hyundai is also facing compensation claims after it admitted that it had overstated the fuel efficiency of some of its vehicles.
Hyundai has said it will compensate the affected buyers.
The compensation, which will cover nearly 900,000 vehicles, could cost the firm millions of dollars.