'Bankrupt' France comments rebutted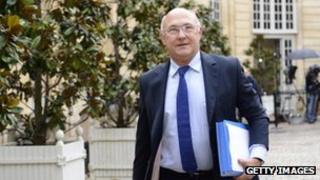 France's politicians are defending the health of its economy after Labour Minister Michel Sapin described the state as "totally bankrupt".
Finance Minister Pierre Moscovici said later that Mr Sapin's comments were not "appropriate".
"France is a truly solvent country, France is a truly credible country," Mr Moscovici added.
President Francois Hollande has promised to reduce its deficit to below 3% of output this year from 4.5%.
"Was it a gaffe or is the Socialist government softening up the French public for a difficult road ahead?" said the BBC's Christian Fraser in Paris.
"Having devoted most of his first year to policies that appealed to his left-wing base, Mr Hollande is now facing the tougher decisions - cuts to public spending and labour reform. And his labour minister, Michel Sapin, has spelt out why it is required."
'Persistent challenges'
In a radio interview on Sunday, Mr Sapin replied to a question on the state by saying: "But it is a state totally in bankruptcy". He later told the AFP news agency that he was speaking of the state finances in the past and it was a joke.
Mr Moscovici said his words were "not entirely appropriate because France is a country that does not need to shut down its public services on a massive scale".
France's public debt total topped 90% of the value of everything produced in the economy last year, well above the European Union target of 60%.
Unlike most of its European neighbours, the president has generally favoured tax increases over spending cuts to plug the gap between government revenue and expenditure, including increasing the top rate of 75% tax on incomes over 1m euros ($1.3m; £800,000).
The planned increase led to the departure of actor Gerard Depardieu to Russia and UK Prime Minister David Cameron to say that if the tax hike happened, he would "roll out the red carpet and welcome more French businesses to Britain".
The planned increase was struck down by the Constitutional Court recently.
In November, rating agency Moody's downgraded France's debt from Aaa to Aa1, and kept its negative outlook, meaning the rating could be cut again, because of France's "persistent structural economic challenges".