Spain's retail sales drop for 30th month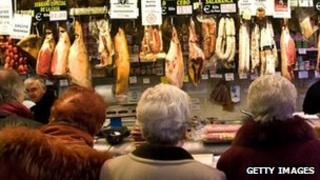 Spain's retail sales have fallen for the 30th month in a row as the nation continues to suffer from a deep recession and high unemployment.
Sales during the important Christmas period in December fell by 10.7% from the same period last year, compared with November's 7.8% drop, the National Statistics Institute said.
Retail sales for 2012 as a whole were down 6.8% from the previous year.
An increase in Spain's sales tax helped deter shoppers.
The drop in retail sales has come as Spain's unemployment rate has hit a modern day record, with joblessness among young people topping 55%.
Official data recently showed that the jobless rate in the last three months of 2012 rose 1% to 26%, or 5.97 million people. The figure, the highest since the mid-1970s, follows Spain's prolonged recession and deep spending cuts.
The Spanish government has found itself in financial difficulty since the 2008 global financial crisis caused a big crash in the country's over-heated property market.
Prime Minister Mariano Rajoy's government plans spending cuts of about 40bn euros ($54bn; £32bn) this year as it tries to prevent the need for a bailout.