Santander profits hit by Spain bad loans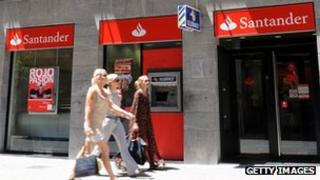 Spanish banking group Santander has seen profits fall 59% after setting aside money to cover losses from the collapse of Spain's property market.
Santander made profits of 2.2bn euros ($3bn, £1.9bn) in 2012, after setting aside 12.7bn euros for bad loans and 6.1bn for potential property losses.
The share of problematic loans at its Spanish branches rose from 5.5% to 6.7% during the course of the year.
To add to its woes, operating income at its UK and US businesses fell sharply.
In the UK it fell 26%, and the US 18%, suggesting that the long-term profitability of both units is being squeezed.
Operating profit across the whole of Santander Group rose 1.6% to 23.6bn euros, thanks to a strong showing at its Latin American businesses in Brazil, Mexico and Chile, which now contribute half of the group's profits, and 50% growth at its small Polish subsidiary.
Santander is in the process of shrinking its Spanish business. It announced in December that it was absorbing High Street subsidiaries Banesto and Banif - a process that would involve closure of 700 of the three banks' combined 4,664 Spanish branches.
In its latest results, Santander reported a 6% reduction in the total volume of loans held by its Spanish units, and the sale of 33,500 Spanish homes it owned, helping to reduce its total exposure to real estate prices in the country by half, to 12.5bn euros.
Meanwhile, the bank has continued to attract more depositors in Spain, as it benefits from an image of relative stability compared with the country's many deeply troubled regional savings banks.
Total deposits rose 12% during the year, enabling Santander to repay 24bn euros of the long-term emergency loans it - along with most other banks in the eurozone - received from the European Central Bank last year.
"Profits reached a turning point in 2012," said the bank's chairman, Emilio Botin. "In 2013, with the exceptional write-offs behind us, we should see a marked increase in earnings, based on the group's recurrent revenues and cost control."