Dreamliner grounding to cost ANA $15m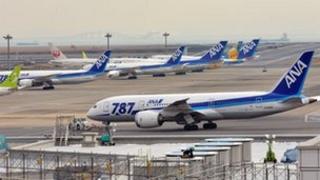 Japan's All Nippon Airways has said it will take a 1.4bn yen ($15m; £9m) hit from the grounding of its Boeing 787 Dreamliner fleet.
ANA had to cancel 459 international and domestic flights in January. It also said it remained unclear when the aircraft would resume normal service.
The carrier made the statement when it released earnings for the nine months to December 2012.
Net profit came in at 52bn yen, which was 55% higher than a year earlier.
ANA said its earnings were boosted by its low-priced fares promotion over the end of 2011 and beginning of 2012, which was held to commemorate the airline's 60th anniversary.
In addition, the carrier added flights and established new routes, both domestically and internationally. ANA said it saw "solid business demand and leisure demand" in the nine months to December 2012.
The fares promotion and new routes helped to offset the fall in demand for routes between Japan and China.
Flights between the two destinations took a dip when tensions between the two countries flared up in September.
Both countries are locked in a dispute over ownership of resource-rich islands in the South China Sea. The standoff led to anti-Japanese protests in China.
Impact uncertain
ANA said it was currently sticking with its forecast of 40bn yen in net earnings for the full year ending 31 March.
But since the carrier has no indication as to when its Dreamliner fleet can take to the skies again, the full financial impact from the grounding remains uncertain.
Its entire fleet was grounded after one of its Dreamliners was forced to make an emergency landing earlier this month.
Aviation agencies in US and Europe said the planes should be grounded while safety checks were carried out on their lithium ion batteries.