SK Group chairman jailed for embezzling company funds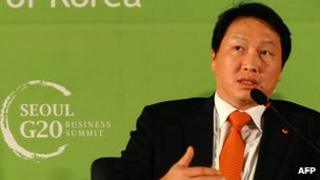 The chairman of one of South Korea's largest conglomerates, SK Group, has been sentenced to four years in prison for embezzling company funds.
Chey Tae-won was found guilty of using nearly 50bn won ($46m; £30m) of the group's funds for personal investments.
Mr Chey was previously imprisoned in 2003 on charges of accounting fraud.
The ruling comes amid increasing calls for a tougher stance against misconduct by bosses of South Korea's big conglomerates, also known as Chaebols.
"As the head of SK, which has a large influence on the nation's economy, Chey Tae-won should be an example of corporate governance and transparency," Judge Lee Won-beom said.
"But instead [he] embezzled several tens of billions of won in affiliates' funds and tried to pass on the responsibility to the other defendants."
However, a spokeswoman for SK Group said Mr Chey would appeal against the ruling.
"After a thorough review of the ruling, [SK] plans to take legal steps to prove [Chey's] innocence," the group said in a statement.
'Skirting the law'
South Korea's big companies, which include firms such as Samsung, Hyundai and LG, generate almost half the country's total gross domestic product (GDP).
They are credited as being the key drivers of the country's economic growth over the past few years.
However, they have faced increasing criticism for being too dominant and for using their influence to get away with lenient sentences for any misconduct, not least from the country's newly-elected president.
"In the past, there were many cases of skirting the law despite being guilty, because they were powerful or rich," President-elect Park Geun-hye said earlier this week.
"The people's trust in the fairness of the law cannot be let down."
Bosses of some of the country's biggest conglomerates have previously been found guilty of misconduct.
But they have generally received suspended sentences, which in some cases have even been annulled subsequently.