Lost in Thailand shakes up China's movie industry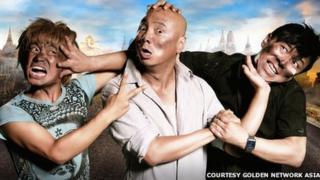 The box office success in China of low-budget hit Lost in Thailand has revived hopes for the country's film industry.
Late one evening in December, a crowd gathered in the foyer of a Beijing cinema after failing to secure a ticket for the day's final show.
"Even the front row seats are all sold out," the teller patiently told the crowd.
As it became clear people were in no mood to go home, staff agreed to an additional showing. It's a scene that played out in cinemas across the country.
The movie in question was not a Hollywood blockbuster or even a state-backed propaganda extravaganza. It was a low budget, slapstick comedy that has unexpectedly become China's highest-grossing homegrown film.
Lost in Thailand has taken $200m (£130m) since its release on 12 December, according to entertainment consultancy Entgroup.
It has taken more at the Chinese box office than Titanic and comes close to Avatar, which raked in $220m (£142m).
The movie's run in Chinese cinemas ended on 27 January and it's now being released internationally.
Its success has revived hopes for China's movie industry, which has struggled to compete against Hollywood's big budget, special-effect laden productions.
The film tells the tale of a businessman who travels to Thailand to find his boss and then finds himself embroiled in a series of bizarre capers involving kickboxing, snakes, gangsters and a pancake-maker he meets on a plane.
"It's a very funny, very well made, mass-market comedy, which is well scripted and has an exotic location," said Patrick Frater, chief executive of Film Business Asia.
"It is not a masterpiece but it's on the money in making a reasonably-intelligent commercial film, which clearly people have responded to."
It's also a sequel to 2010's Lost on Journey which means it has a "built-in audience", Mr Frater adds.
'Bigger meaning'
As a light-hearted comedy, it contrasts with the historical epics and action flicks that make up most of China's domestic film releases, says Liv Yi, an analyst at Beijing-based entertainment industry consultancy Entgroup.
Its depiction of a status-conscious businessman who falls for the simple life also struck a chord with audiences who are beginning to question China's materialistic society.
"It's a small story but it has a bigger meaning. In China today, too many people worship money," Christy Bai, a teacher from the southern Chinese city of Shenzhen told BBC News.
But the success of the movie has not been universally welcomed.
University professor Xiao Su told the Changjiang Daily the movie was "vulgar", adding that movies should seek to improve ordinary people's cultural quality and taste rather than focus on box office takings.
Lost in Thailand's success comes at a time when Chinese movies appear to be losing ground to their Hollywood counterparts.
In 2012, imported foreign films captured a larger share of box office receipts than domestic movies for the first time in six years.
This was partly because last year, after years of Hollywood lobbying, China enlarged its quota on imported films from 20 to 34.
Censorship is one factor holding the industry back - films dealing with religion, politics and sex are unlikely to pass muster.
"There is no PG or 18 category so films have to be approved for a wide audience and nobody is ever quite sure what will make it through," says Film Business Asia's Mr Frater.
Film production companies rarely know with certainty when their film will be released or which scenes will make the final cut, making it harder to promote their production at home and overseas.
Lost in Thailand was released in Hong Kong at the end of January and was given a limited release in the US last weekend.
With some high-profile exceptions, Chinese-language films have been a hard sell to English speaking audiences.
Entgroup's Ms Yi says it's unlikely to become another Crouching Tiger, Hidden Dragon - the 2000 martial arts movie that is still China's biggest movie export to date.
"I think it's a very Chinese type of humour - I'm not sure whether foreigners like you will like it," she tells me.